Are you looking for some fun Valentine's Day sensory play activities? We recently did another activity with Epsom salt (post coming soon!) so I decided to use the left over to make up this quick Valentine's Day sensory play activity.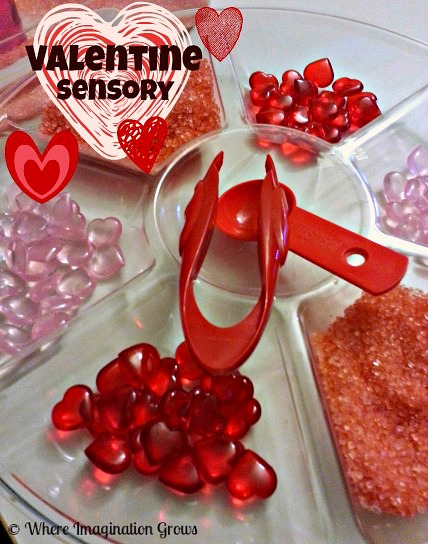 Affiliate links provided for your convenience
Items Used:
-Red & Pink Heart Gems (found at Dollar Tree)
-Epsom Salt (under $3 at Walmart/Target)
-Red Food Coloring
-Trays or plastic bin for sorting (all pictured are from the Dollar Tree)
-Tools for sorting (measuring spoons, tweezers)
I added a few drops of red food coloring to the Epsom salt until I got the variant of red I wanted and then left it to dry during nap time so we wouldn't end up with red fingers and hands.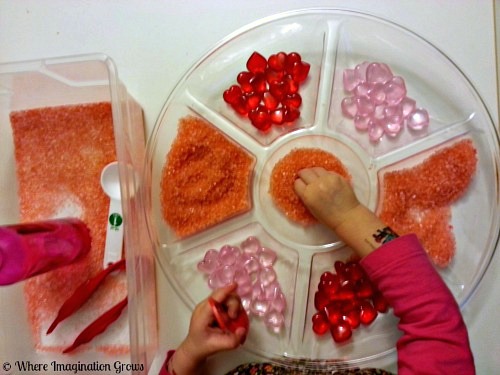 My daughter and the daycare girls love sensory bins & activities, I don't think we've had one yet that they haven't enjoyed.  For this one they initially spent a good 45 mins sorting and "cooking" as well as trading utensils and containers, plus they revisited it multiple times throughout the day as I generally leave sensory bins out for extended periods of time.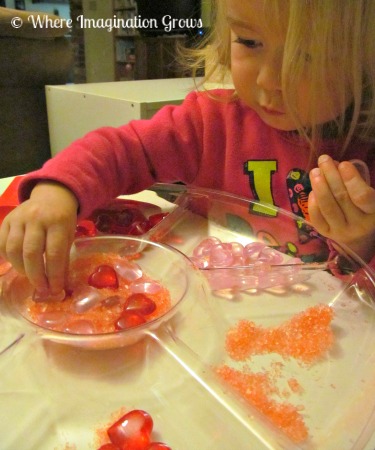 Beyond the fun of sensory play in general, I find sensory bins to be great practice in sharing and taking turns so I purposefully limit types of bins/utensils that are available. There is always enough for each child to use one or two but I vary the types of utensils so they have to interact and share.
My daughter also wanted to put this sensory bin on the light table.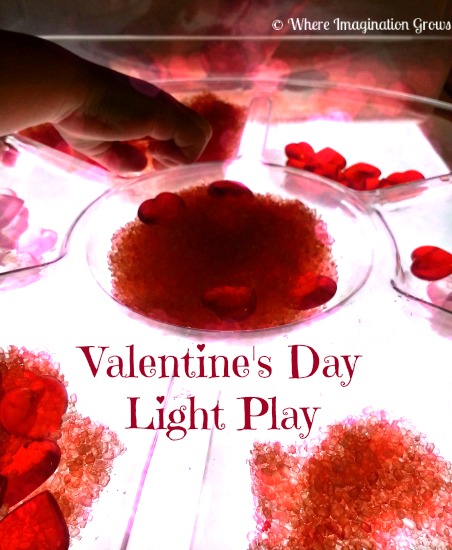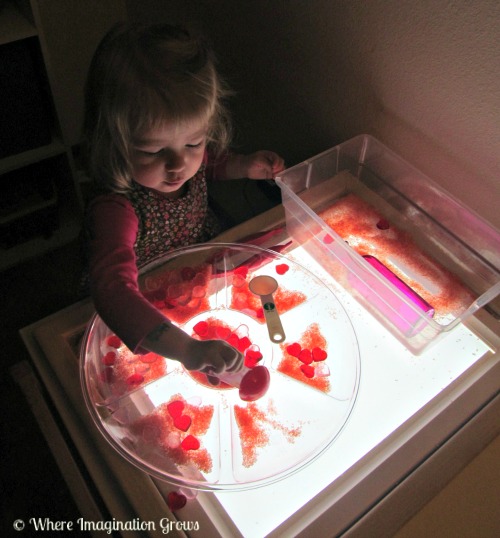 MB has recently discovered how to get tweezers/tongs to work and was so proud of herself because she could pick up the hearts with the tweezer!  She transferred them to an empty section and counted along.