Welcome to our monthly installment our Light and Reflections series with And Next Comes L, Still Playing School, and Happily Ever Mom.  This month's theme is literacy and since we've just begun working on our letter recognition I put together this simple water bead sensory bin for the girls to practice letter recognition.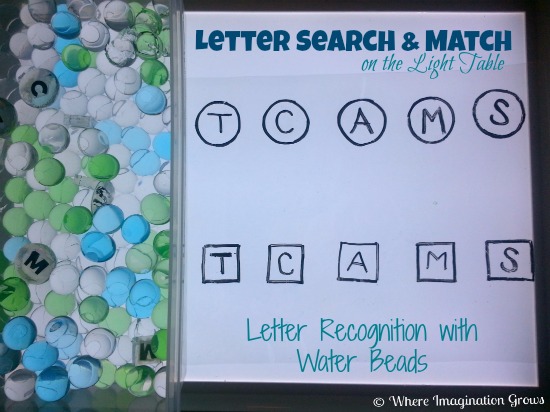 This post contains affiliate links for your convenience. Please see below or our disclosure for more information)
As you'll notice in the photos I don't follow alphabet order when starting letter recognition with my toddlers and preschoolers.  We start with letters based on their phonetic sounds rather than their order in the alphabet and these five (S, M, A, C, T) are the ones I've decided to start with.  I generally start by introducing four or five letters and then gradually adding more.
For this activity I used our glass tile/gems letters (instructions below) and a water bead sensory box.  They are both very easy to make and provides hours of fun and learning.
Sensory Bin Supplies:
–Water beads
–Light Table/Panel
–Transparency Film (I just laminated an empty lamination pouch and it works great)
-Dry Erase Marker
Using a dry erase marker and transparent sheet, create a template with letters that the kids can match the glass gems to after they find them in the water bead bin.  Some dry erase markers wipe off easier than others and ours wipe off very easily so I made my template on the back side so it wouldn't wipe off the second the girls put a gem on it but that meant I had to make some of the letters backwards (eek!).  My backward "S" took a few tries but I managed to get it and as a result the girls had no problems with it wiping off when they were using it.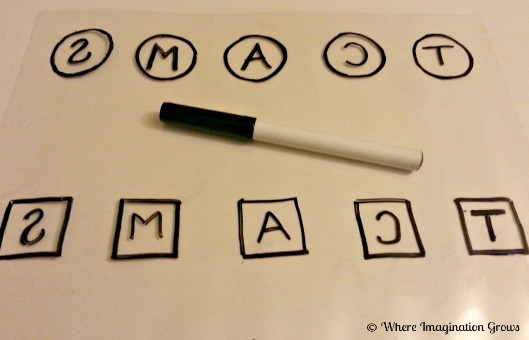 I've had the letter tiles ready to go for quite some time (I was inspired after seeing these cool Alphabet Magnets) and this was the perfect activity to break them out for.
Letter Tiles/Gems Supplies:
-Glass Gems (larger) and/or Tiles (I got our large glass gems at the Dollar Tree)
-Letter Stickers (or you could make some similar ones like the ones at And Next Comes L)
–Mod Podge
All the stickers I could find at the time had a white or pearly colored backing (aka the sticky side) so I used a bit of mod podge on the back of the gems and tiles then just placed the dark, non-sticky side down the tiles/gems to dry.  Super easy.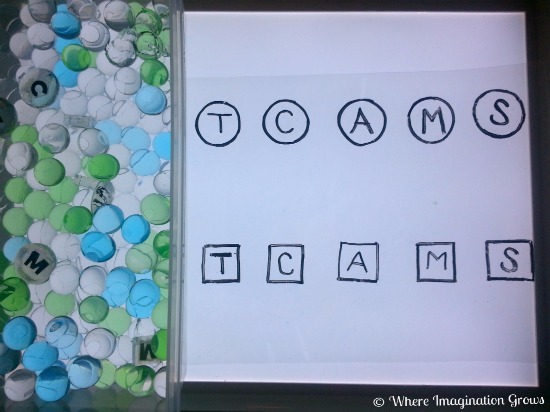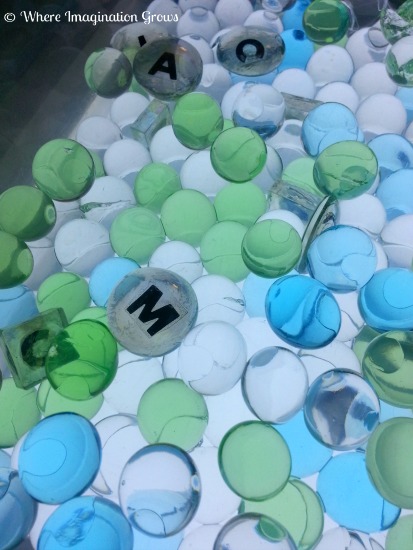 I also set out some tongs but they just wanted to use their fingers with the water beads and tiles 🙂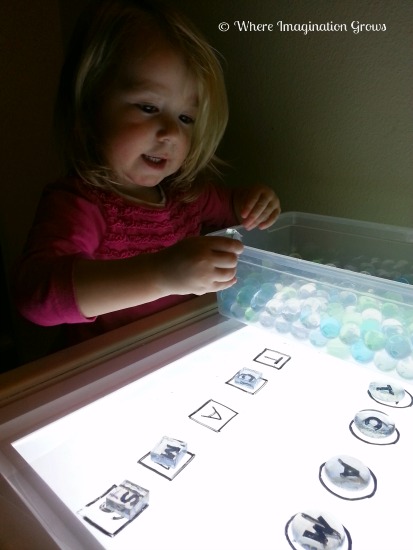 What's more fun than digging around int water beads? MB thought this was sooo much fun.  She worked very hard on each letter and was so excited when she got them all!
Next month our Light & Reflections Series will be back with music and and movement related activities. Check out our upcoming themes below and don't forget to pop over and see what fun activities Dyan, Devany, & Katie had fun exploring this week.
Alphabet Sorting on the Light Table from And Next Comes L
Helping Kids Learn Their Name with Personalized Suncatchers from Happily Ever Mom
Mirror Literacy: Exploring Symmetry in Letters from Still Playing School