Winter is here! Bring some winter indoors with this super fun winter wonderland sensory box for toddlers and preschoolers. Over the recent holiday break my daughter had a great time playing with our had lots of fun playing with our Scented Snow Sensory Box but with Christmas over and winter in full swing I thought it was time to make a winter wonderland sensory box for the daycare girls to explore.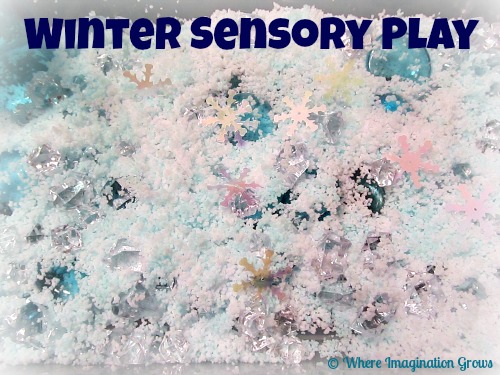 Post contains affiliate links, please see my disclosure for more info.
Winter Wonderland Sensory Box
Do you get snow where you live? We don't usually get more than a dusting of snow but my daughter and daycare kids are obsessed with snow so I'm always trying to find fun alternatives for us to explore.  Since we don't have  So to have our own experience with some snow to play I got out the Insta-Snow and made this winter wonderland sensory bin!
Winter Wonderland Sensory Box Supplies:
Insta-Snow (non-toxic)
Snowflake confetti (got at Michaels craft store)
Translucent glass gems (similar to these but I got mine at the dollar tree!)
Blue decorative jar (also from Michaels craft store)
Tools for scooping
I did also tint a small batch of insta-snow with some blue coloring and mix it in with the white to give it an extra "icy" look and gave them multiple plastic bins (all from the dollar tree) to transfer the items between.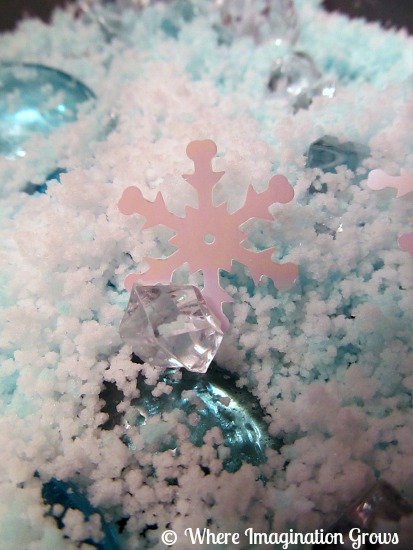 In addition to playing with this on the table we also gave it a try on the light table. If you don't have a light table, don't worry! It's just as fun without it!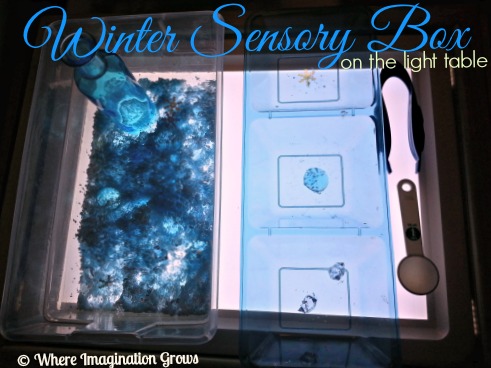 It looks really great on the light table and the girls had a great time scooping and transferring snow and "ice" between the sensory box and the tray I added.
The jar was a great way for the girls to exercise their fine motor skills.  Most of the acrylic ice rocks are small enough to fit into the jar but some were just a bit too big or required a bit of manipulating to get to fit. The glass gems however are too large to fit in the jar, I did this intentionally so there was no risk of the gems breaking inside the jar or breaking the jar itself.
It also took much concentration to pour the snow into the jar. The Insta-snow container that I recently purchased looks relatively small  (we used up our big bag last winter) but I still have yet to use 1/2 of the container and we've made two sensory boxes from it already.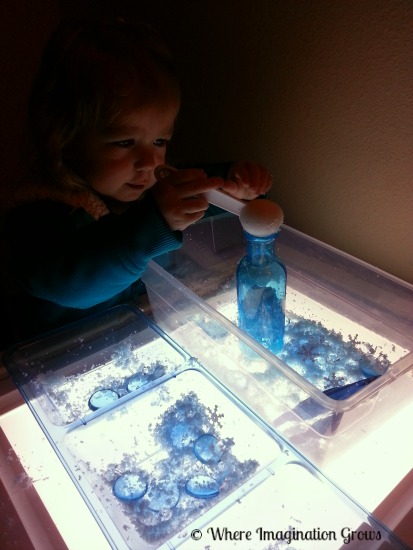 This sensory bin kept my toddler busy for over 45 minutes. That's a major win in my opinion!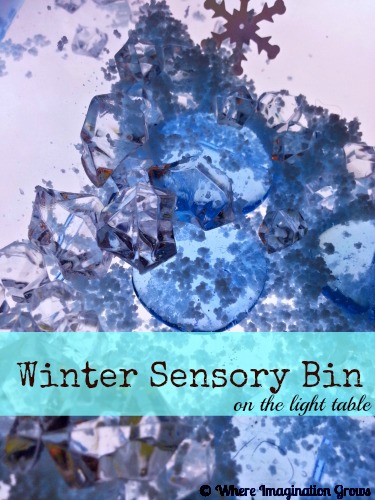 This winter wonderland sensory bin is one of our favorite winter bins. The kids LOVE to play with this fake snow. It's seriously one of our favorite sensory bin fillers! If you haven't tried it, grab some today and you won't be sorry!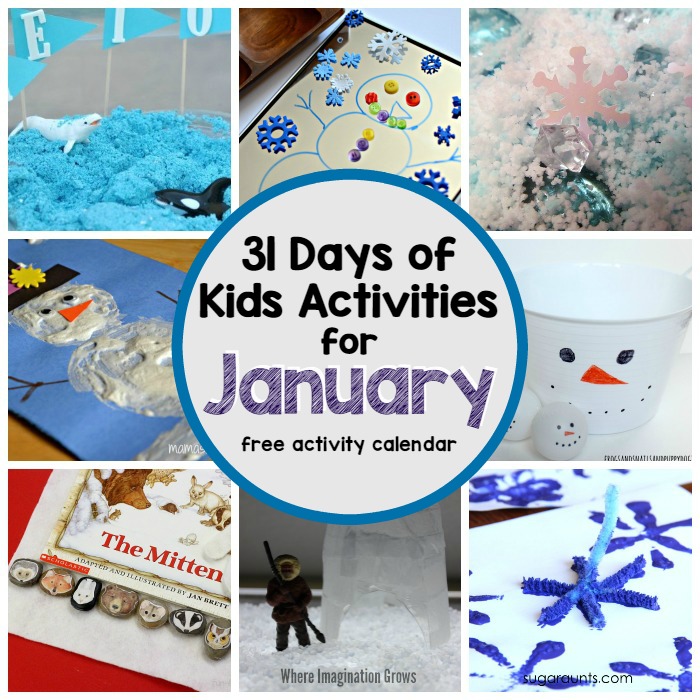 Looking for more crafts and activities? Check out our index for 100+ plus kids activities! Find activities by theme, materials, skills, age and much more!