I used to make these heart suncatchers way back in my daycare center days so with some sunny weather and valentine's day headed our way I decided it was time to break out some glue and make some!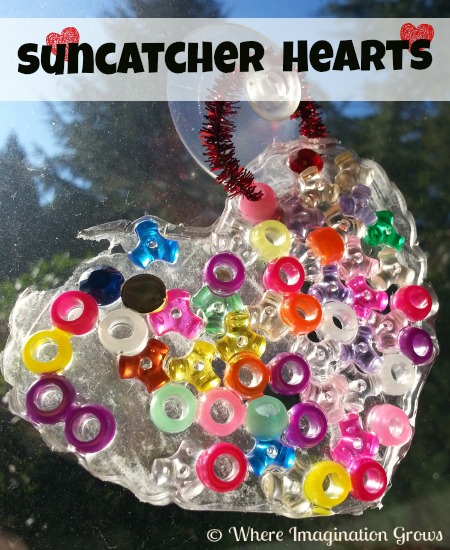 Items Needed:
-Heart-shaped cookie cutters
-Glue (clear glue works best, we used both white & clear so show the difference)
-Beads/gems/tissue paper
-Wax paper
I gave each of the girls a heart shaped cookie cutter on wax paper and let them choose the glue they wanted to use.  I recommend you put the wax paper on a pan or cutting board so you don't have to transfer them to a counter or other area to dry which can cause the glue to leak out.
They LOVE to squeeze glue (really what kid doesn't?) and they thought this was so awesome  because they got to fill the whole heart with lots of glue!
 After they filled the heart with glue I gave them the tray of craft gems/beads and let them fill up their hearts with them.  When were done we set them on the counter to dry.  Be aware these take a few days to dry, ours literally took about 4 days to fully dry.
Pull the wax paper off the back, cut the excess glue from around the outside of the cookie cutter, and then just pop out the dried hearts.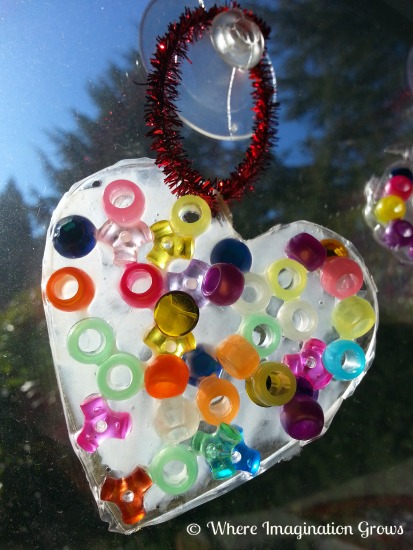 The regular white glue looks "cloudy" but it does seem to dry a bit sturdier than the clear glue.  Of course it could be related to the portions that were used.
We're going to be making more because the girls all had such a great time and they looks so pretty!
About Where Imagination Grows
Lisette is the blogging mom behind Where Imagination Grows. With a degree in ECE and 10 years experience in the field early childhood Lisette is now spending each day trying to keep up with her busy toddler while operating a small daycare from her home. Pop over to Facebook or Google+ and say "Hi!"
Please Note:
If you discover any toys, materials, or other resources via this post that you would like to purchase, please do so by clicking on the affiliate link provided in the post. There is no added cost to you for your purchase via the links provided but every purchase made through affiliate links supports this site and allows me to continue providing you with free activities and resources. Thank you for your support!