Finding clients can be one of the hardest parts of starting your business, especially when it comes to opening a family child care program in your home.  Not only because are you opening your home, your families personal space, but also because you are offing care for what's most precious to someone, their child.  So you've thought about the
pros and cons of doing daycare
, created your 
contract
, got required certifications, & figured out what to charge but now that you are ready to start enrolling kids where do you start?
Advertising Your Family Child Care Program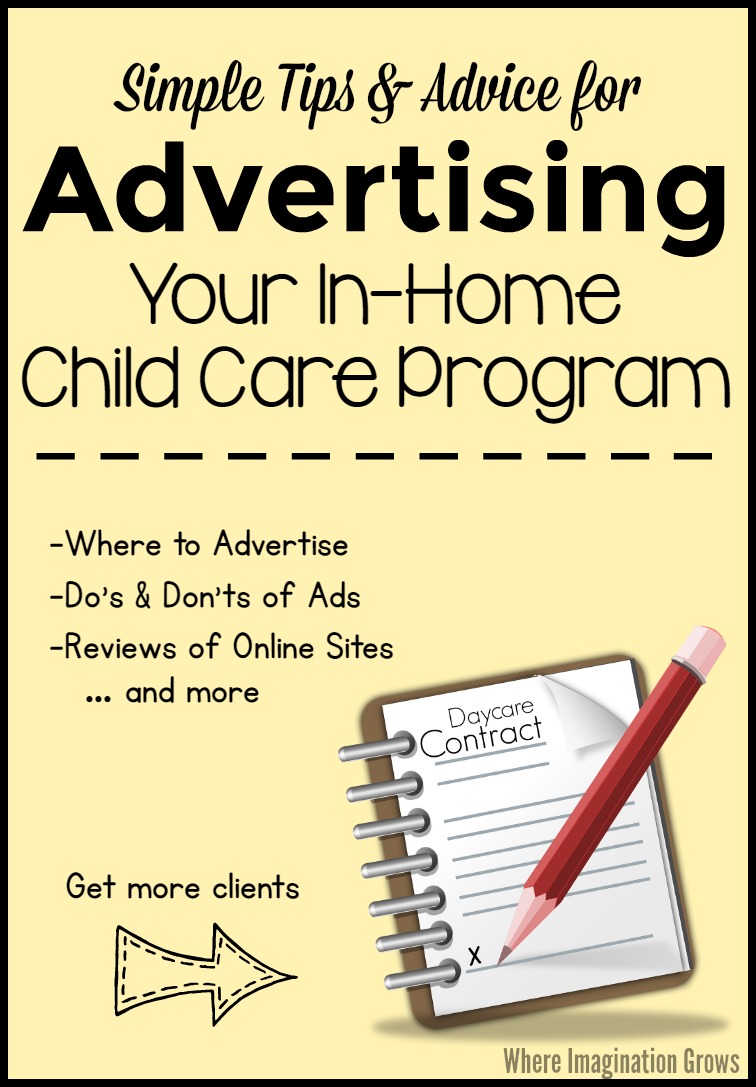 There are several options for providers to use for advertising:
Craigslist
Care.com
SitterCity.com
Facebook
Vistaprint Marketing
Word of mouth
Local referral agencies,
Leaving business cards at local children's venues (clothing stores, activity centers, coffee shops)
Family & friends
I've tried all but Vistaprint Marketing and I honestly have to say the only one that has really worked *for me* is Craigslist and word of mouth.  I've gotten 100% of my clients from Craigslist ads and word of mouth.  I never once have I gotten anyone that wants more than drop-in care from Care.com or SitterCity.  I have provider friends that have advertised in these same locations but also had no success.  I have nothing against these sites and I think they could be a great resources for parents but in my opinion these sites are really more aimed at helping parents find the occasional babysitter not an actual full time provider.  That said it's been a few years since I've tried them so maybe their formats have changed.
When it comes to family and friends I generally tend to avoid these situations.  The old saying about not mixing family or friends and business has been coined for a reason.  Family or friends know you on a personal, non professional, level and that can affect you business relationship.  What happens if they pay late or don't follow your policies? Will you be able to enforce it or be firm with them or will you worry abut the relationship you have with them and let it slide?  The fact that a lot of people seem to forget is that this is your business, it's how you pay your bills and provide for your family, it's not a hobby. Plus its common for friends or family to expect you to be more flexible or give them special treatment.
Since Craigslist is my main avenue for advertising I've spent a bit of time analyzing my ads and what works or doesn't.  Although I do use Craigslist with success, I will say that you have to be very careful when using craigslist as there sometimes seems to be more scammers than there are actual legit inquiries.
Here are a few tips that I recommend when using craigslist (I'm sure you could use these for other sites too):
Never include a phone number or email address
Use the anonymous address option for people to reply to
Create an email address for your daycare,

do not use your personal one!

I'm paranoid (and hate spam!) so I even created a second email address for my program that I use specifically for craigslist.
Never include your exact physical address
Do not include personal information
I know it sounds like you are taking out the bulk of what people want to know but honestly you aren't. Craigslist scams are rampant and you have to protect your information. Real people will make an effort to contact you.
It's amazing to me but I frequently see ads on my local craigslist where they list so much personal information its scary! They give away details of their family (Children/significant other/pet names and personalities, employers, church, activities), location, location with "unavailable" times saying they aren't home, photos, cell phone numbers, personal email addresses… the list goes on and on! I know you're thinking I'm paranoid but really craigslist has no regulation and I want the parents, children, and my family to feel safe.
Examples of a no-no ad (most from real ads too!):
"My name is Jane Doe and I am located at 123 Smith Drive. I'm marred to my husband Joe and have 2 amazing children (Susie and Johnny) and a super friendly dog named Spot! We attend 1st Street Church, Susie takes dance at Ballet schools,  and Johnny plays on the Bad News Bears T-ball team!!" with a family portrait attached often- Way too much personal info! Protect your kids safety and privacy!
"I am located at 123 Sesame ST …. I don't provided weekend care as we are usually out doing things as a family" -hmmm… "Here's my address and when we won't be home"
"You can call or text me anytime at 867-5309 or email me at Sexykitten1@email.com" -Don't use personal emails, especially  if they aren't professional sounding, make one for your business.
Other things that will get your ads flagged or turn potential parents off (also things I truly see listed):
"U need babysitter? Hit me up! Cheap rates! TTYL" Text speak and "cheap" should ever be in your ads.
"hi im Jenny 21 yrs old got experience with kids any ages im available any days anytimes even weekend you call me." -Really?!
"Cash only" -No tax information will be provided at end of year, only "under the table" care.
"I need money so I'm offering low rates." -Enough said
"Any times, any days, any ages work! Lots of kids for your child to interact an play with while doing fun stuff I offer them!" -Desperate for money and most likely WAY over legal ratios
Please spell check you ads!!! Nothing looks more unprofessional than an ad riddled with spelling errors! And definitely no sexy/racy "selfies" or "duck face" photos! When I see those I want to reach through the computer and smack whoever posted it.  These aren't personal ads and if you want your business to be taken seriously you have to present it professionally.
When replying to email inquiries go with your gut.  If something just doesn't feel right don't waste your time replying only to end up with an inbox full of spam.
I never reply to emails that that have the following:
Lots of misspelled or misplaced words.
Person says they are out of town or out of the country
Wants to pay a large lump sum prior to services starting via money order
The email is (or contains) an long string of random numbers or letters.  These are auto generated emails that spammers use, something like dsafjsdvbi@email.com
If they list another email (generally with a string of numbers/letters) for you to reply to
If they only ask personal/financial questions
If the email itself contains a string of random letters and numbers at the bottom (some times you have to scroll down a bit to see them) like 4ijvnbmaoeyutn45vnwo97am04ut494vnamboruyt9
Don't be afraid to be picky about who you reply to, it's your information and your business.
It seems like its a lot to take in and a lot to beware of but in reality its not that hard to figure out the spammers from the legit interest that you get, you just have to pay attention to the responses.  Like I said I'm really picky with what I respond to an what clients I interview or accept.  I think that's a big part of why I have been so fortunate to have great daycare families.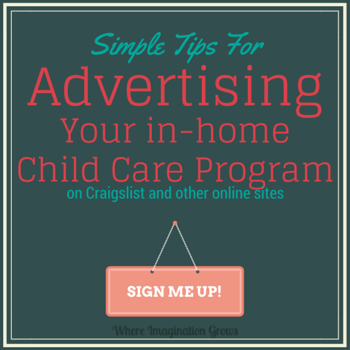 Interested in learning more? Check out the rest of my posts in my How to Run a Home Daycare Series or check out my ebook for even more in-depth help starting your home daycare:
Available in downloadable ebook and Kindle format! Also check out our daycare forms and full daycare contract template in our store!  Shop Now! 
Looking for more post about running a daycare? Check out my daycare page to learn about starting or running an in-home daycare.