One of the more challenging parts of starting a daycare is
interviewing daycare clients
. Many new providers don't know where to start.  It's intimidating to invite someone you don't know into your home, answer all the questions and concerns they may have, and make sure that you 
ask all the right questions
 to see if they are the type of clients you are looking for. Plus it can feel like your whole life and family are on display for judgment and assessment by people who are essentially strangers.  This makes new providers nervous and sometimes it can feel like you can't be yourself even though this is your home, business, and everyday life that they will be part of.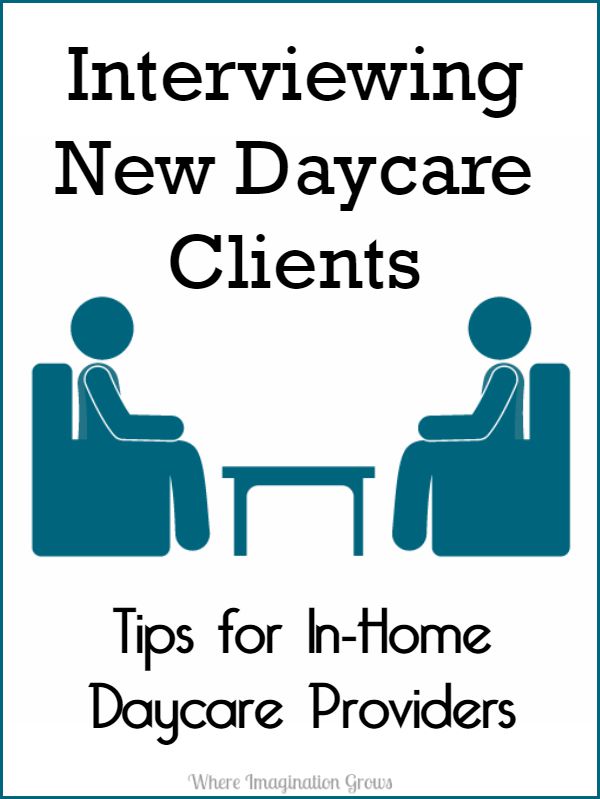 Tips & Advice For Interviewing Daycare Clients
Before you interview potential daycare clients you should make sure you are screening them prior to setting up an interview time. Make sure you are asking them what ages of children they have, what hours they need, and giving them your rates when they first reach out to you via phone or email. There is no point in wasting your time interviewing a family that can't afford your rates or that needs care until 6:00 pm if you close at 5:30 pm.
Clean but don't go overboard!
Obviously when you have an interview coming over you want to clean up a bit. You want to put your best foot forward and be seen as a professional. Make sure that your house is clutter free and clean.  My home doesn't sparkle everyday (even though I feel like I spend 24/7 picking up and cleaning) as much as it does on interview day. That said I don't go out of my way to set an unrealistic view of how clean my house is. It's never a pigsty but daycare can be messy, some days not everything gets put back in the cupboard or wiped down right away, so I don't want potential parents to see a home that is incredibly immaculate in the interview and then a week after starting they feel like it's a totally different house. I vacuum, put any extra dishes away, organize the toys, and give the counters an extra wipe down. That's about it. I don't spend hours cleaning for an interview. In general a daycare home should be clutter free, having too many toys or an overstuffed craft cabinet on display can come off as "dirty" to potential clients. I think a big misconception among new providers is that you need to have a huge play area full of noisy electronic and educational toys. In my experience I've found parents could care less about how many toys you have as long as your house is clean and organized.
Most providers don't dress up for work, this is not a business casual career, many are t-shirt and jeans kind of people. Working with kids is a messy job. However, when you have an interview you want to look professional and that generally mean that you should look presentable. Dress up a bit, ditch the yoga pants try a pair of clean jeans or slacks and a logo free shirt. Every morning I get up to take a shower, do my hair, and dress in appropriate clean/non ripped clothing but, as any provider knows, by the end of the day I may be just as messy as the kids! While it's the reality I don't want to wear paint stained shirts to an interview. I also don't want to present a false image by dressing up way beyond what I normally do.  I want the interviewing daycare clients to see a professional person but I also want them to see me for who I actually am.
You are interviewing THEM too!
The hardest thing for new providers to remember when doing those first couple of interviews is that it's not just them interviewing you, you are interviewing them as well.  This is your business and even though you are trying to sell your program to these potential clients you also have to pay attention to what they need and expect from you.  Talk with them about what they need and figure out if they will fit with the program that you are offering.  Unfortunately not all children or families will fit with your program. Pay close attention to how the child interacts with the parents and how the parents interact with you and their children. Ask questions about the child's current habits, daycare experience, and needs. Here are some tips for interview questions you should be asking.
Make sure they are people that you can feel comfortable dealing with.  You will have a lot of interactions with them and inevitably you will have to address an issue of some sort (from behaviors to payments) down the line and if you don't feel comfortable you can easily get walked on. Honestly, sometimes the hardest part of this job is the parents. Things like not picking up/dropping off when scheduled, payment issues, and lack of respect are common issues that providers will often terminate daycare clients for so it's important that you feel like you could stand up to client if needed.
Go over contract and policies!
In your interviews it you should always go over your contract and/or handbook with parents, even if you also give them copies to take home. Many times parents will not read all of your contract if you just hand it to them without going over it and that can lead to issues later. Of course there will be parents that actually do read it afterwards but then they may bombard you with questions after the interview. It's best to just go over it with them during the interview. That way down you can answer questions as they arise and clear up any misunderstandings right away. Doing this means that if an issue comes up down the line the parent can't turn around and say they didn't understand because you didn't go over it with them.  Saves you headaches.  I ALWAYS go over my policies. In general you will find that cost, sickness policy, holiday closures, and late fees are more often than not where you will meet resistance so it's important to be very clear on these. If a parent doesn't agree with one of these policies in your interview or asks for exceptions they are not a good fit.
Avoid daycare hours!
Never do interviews during regular daycare hours or let potential parents observe for long periods. It's not that you have anything to hide but you have other children to protect and focus on. You can't give the interview or the children in your care your full attention and that's a recipe for disaster. I tell people that I don't allow for interviews during daycare hours for three main reasons: the privacy and safety of my current daycare kids, the fact that I can't give the interview my full attention, and also because it creates extra stress to the day for the kids and me. My current daycare children get all excited (and in some cases uncomfortable and scared) when someone new is around, which makes them act up in ways that require more supervision not less.
I know this is hard for parents to understand but I usually ask them to think of it this way: would they feel comfortable with an adult they and their daycare provider didn't know hanging out in the daycare for a few hours? I generally interview 3 to 5 potential clients from my wait list and then pick the one that fits best, that's anywhere from 3 to 10 new people being around your child. I know that I, as a parent, would not be OK with that. It's not about hiding anything, its about making sure my current daycare kids get the same level of care at all times. I'm not putting them and their needs on the back burner to interview a potential client.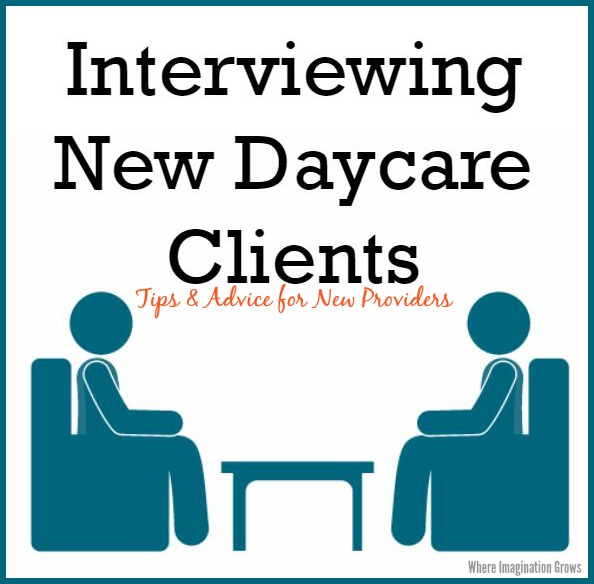 Interview musts:
Clean your house
Go over contract/handbook
Ask about child (eating/sleeping habits, schedules, temperament, daycare experiences…)
Pay attention to child/parent behaviors
Discuss hours worked by parents and how pick up/drop off will be handled
Be upfront and firm with what you expect, this is your business and is run how you want not how the parent expects or wants.
Don't negotiate prices or hours; stay firm!
Red flags:
If either parent makes me feel intimidated or uncomfortable.  It's so much harder to stand up for yourself and enforce policies if you are intimidated by a parent.  If something just feels off then trust you gut and pass.
If parents are already asking for extended hours, even if they say it's just occasionally. I've found parents that ask in interviews about working around my posted hours, even if they say it's not all the time, usually end up asking this frequently and get upset if you don't make allowances for them.
Not agreeing with your policies. If a potential clients has an issue with one of one of your policies (most frequently it's the paid time off and sickness exclusion) and brings it up several times or argues with you over it then I would not admit them. Even if they eventually agree to sign the contract. These issues usually do not go away and you will hear about every time it comes up.
Infants with very part time or inconsistent schedules.  In my experience and from connecting with other providers this seems to be a consistent issue.  It's very hard for an infant to adjust, especially if coming from an attachment parenting home, when they are part time. Many cry all day and have feeding/sleeping issues.  I'm not saying that all infants will be this way (or that attachment parenting is bad because I don't think it is) but you should be aware it's a possibility.  This is why its important to ask about sleeping and eating habits.  If a baby has to be held to sleep and you have five other children to care for then your program may not work, especially when the child is part time because they aren't with you enough to get used to your routine.
Remember this is your business and livelihood.  More than that it is your everyday life, do you want to put up with a parent you can't stand? a child for 12 hours? Work a full day for half day price? NO! You are worth more than that!
What tips do you have for interviewing daycare clients?
Don't forget to check out my tips for creating a contract or my list of pros and cons of doing home care. Click the image below to learn what questions you should be asking in new client interviews!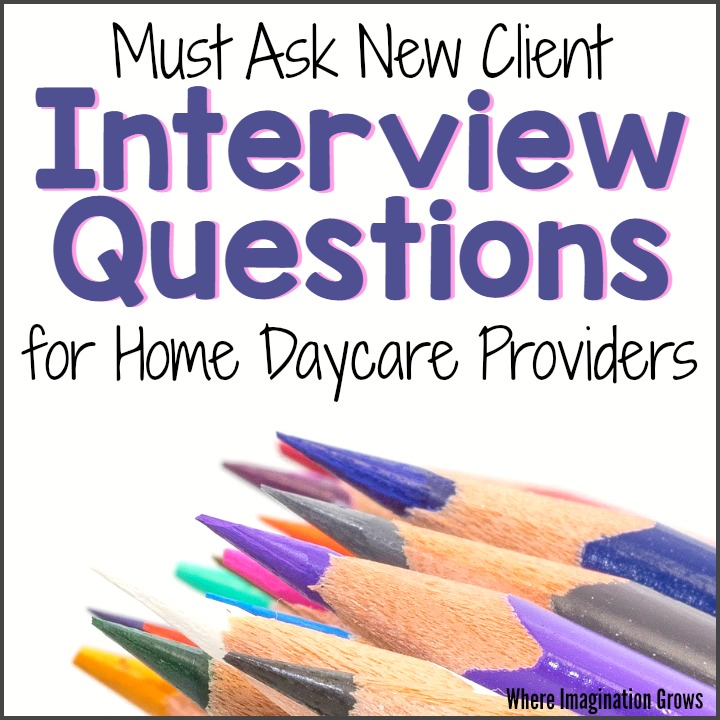 Looking for more post about running a daycare? Check out my daycare page to learn about starting or running an in-home daycare or shop my collection of ebooks and daycare forms in my store.