Our favorite art supplies for kids! All tried and tested by my daughter and daycare kids over the years! Whether you are on the hunt for great birthday or Christmas gifts, filling a new playroom, or just looking for new ways for your artist to explore their creative side we have something for you in this gift guide!
Do you have a little artist in your house? My daughter is a total art lover, I honestly think as long as she had crayons and paint she wouldn't care if I got rid of (nearly) all of her other toys. Our art cabinet is overflowing with art supplies and I'm always adding things to it.  If you have a little art lover in your family too then keep scrolling and check out this awesome gift guide full of art supplies that are sure to please!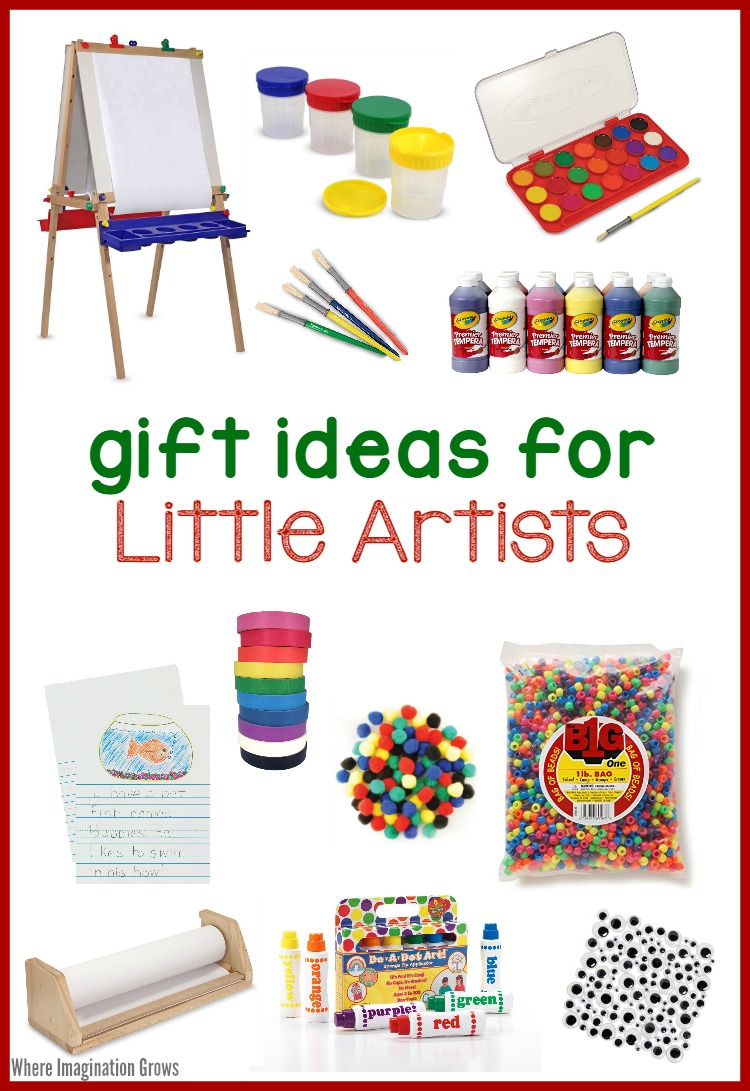 Post contains affiliate links for your convenience, see my disclosure for more.
 Painting Art Supplies for Kids
Washable Tempera Paint – a necessity for any budding artist! I highly recommend the Crayola or Colorations (Discount School Supply) brands as they are good quality and wash out well. I've found other brands to be too watery, the color pigment ends up more washed out as it dries. If you have multiple kids at home or a daycare like me I recommend you skip the typical 16oz bottles and go right to the gallon sized sets of paint. You get more for you're money.
Washable Fingerpaints – I like fingerpaints for younger kids. There isn't much difference but the texture is a bit thicker. While you can easily use fingerpaints for everyday paint projects I do find that they are more likely to flake when they are dry.
Watercolors – Watercolor paints are super easy to use and the clean up is easier (most of the time). My little artists love using them because they have more colors at their disposal in one container and they can they can experiment with how the pigment looks buy adding more or less water. I really like this Melissa and Doug set, it's my daughter's favorite, but for the daycare I usually buy this bulk set of crayola brand ones because we go through them faster in the daycare.
Liquid Watercolor Paints – My kids love liquid watercolors. I think part of it is that I put ours into dropper bottles because the kids love them. While they are more expensive than tempera paint there are so many ways to use them that you can definitely get your money's worth.
No Spill Paint Cups – No spill paint cups make it easy for the kids to have free access to paint while giving you a bit more piece of mind. Granted paint will most likely end up on your table or floor but you won't have a whole container of paint spilled all over and you're not wasting paper plate or having to wash paint trays.  Personally I like the tops that come completely off but if you area afraid of losing them they do make ones with tops that attached and snap closed.
Paint Brushes – Every artist needs some paint brushes! They come in all sizes and shapes but I've found plain, medium sized brushes are the most used ones. My daycare kids like to use the foam or roller brushes from time to time but most of the time they will choose the regular brushes. Make sure you grab some of these essentials!
Art Easel – Every young artist needs a space to create their art! What's better than an easel? I know most easels come with a chalkboard side but to be honest, I've yet to find one that's great quality and truthfully in all the years I've been doing daycare I've found that kids really prefer to just use them for painting. My chalkboards never get used. If your little one is more into paining or if you have multiple kids then I recommend you buy an easel with trays on both sides and pick up an extra set of easel clips. That way you have have two sides available for painting.


Drawing & Coloring Supplies
Drawing Paper – Your little artist can't create anything without some drawing paper. There are so many options out there that you can't go wrong. For families that go through a lot of paper (This is my house!) I recommend a table top paper dispenser and a large easel roll of paper. If you need a smaller about drawing pads and plain white paper are perfect. Also for older kids that are starting to write and create stories I highly recommend storytelling paper. It's a so fun to see them put words with their creations.
Crayons – The most basic art supply that every kids should have is crayons! The possibilities for use are endless! Grab a few packs of these as you will be surprised how fast kids can go through them! And don't skip on the quality. I personally have found that name brand crayons last way longer and have better pigments than dollar store or off brands.
Markers – Just like crayons markers should be a staple in every house. They are cheap and easy to clean up, plus kids love them. I usually stock up on markers and crayons during back to school season but even outside of these sales you aren't going to pay more than a few dollars for them.
Dot-A-Dot Markers – These are loved by kids! Seriously. Buy them and you won't be sorry! My kids can spend a great deal of time creating pictures with these. Plus you can find hundreds of dot art printables on Pinterest too, everything from learning activities to coloring sheets, so there is an endless amount of activities to use these with outside of just free play.
Glue – Create more complex projects with by gluing things together! Older kids love to use glue and it allows them to take their art projects to new levels. Younger kids can easily use glue sticks if they aren't proficient with liquid glue. Glue is a staple for fun crafts so make sure you're little artist has some!
Crafting Supplies
Construction Paper – Every craft supply cabinet needs construction paper! It's a staple for crafting with kids. Look at all those cute kids crafts you see on Pinterest, most of them use colorful construction paper.
Tissue Paper – We love tissue paper! There are so many possibilities with this simple and affordable material!
Masking Tape – Kids love tape! It's one of those materials that we don't often think of as an everyday art material but kids can create amazing things with tape. Don't forget the scissors!
Beads – I can't express how much kids love to create with beads. They make great table time activities and are fun way to develop fine motor skills while crafting. Pony beads are a must for sure but older kids (preschoolers and older) also like different types of beads, like perler beads or ABC letter beads, when creating their designs. The wholes in specialty beads are smaller so make sure your child has mastered the larger holes of the pony beads before trying something else so they don't get frustrated.
Craft Sticks – So many possibilities. Just google craft stick crafts and you'll be busy for hours!
Pom Poms – Pom Poms add all kinds of color and texture to craft projects. The are a fun art supply for kids because they have a texture kids like and you can make so many different things with them.
Wiggly Eyes – What fun is making cute animals or silly monsters if you don't have any eyes to go with it?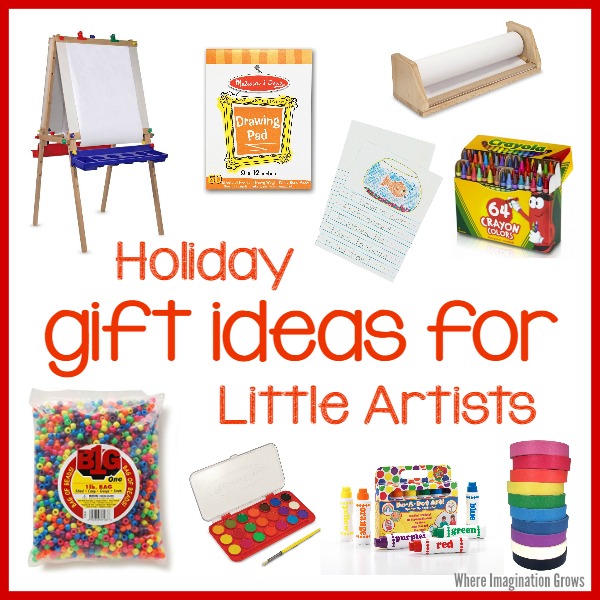 For more ideas check out our favorite toys in our Gift Guide for Toddlers or check out our Amazon Store recommendation for kids of all ages!
Looking for more crafts and activities? Check out our index for 100+ plus kids activities! Find activities by theme, materials, skills, age and much more!