Lets get back to the basics of childhood with toys that inspire imaginative play!
We live in a world of technology and interactive toys, while those toys can be great gift ideas for kids we also need to give children items that inspire creativity and imaginative play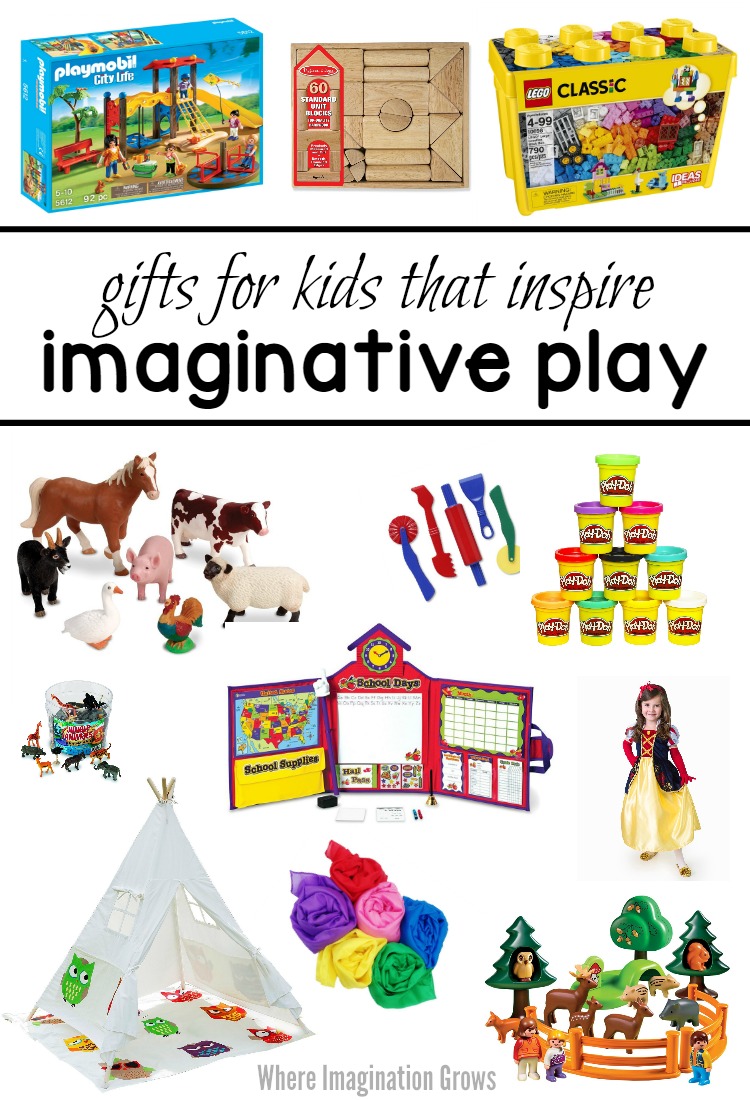 Post contains affiliate links for your convenience, please disclosure for more info.
Gift Ideas for Kids: Toys That Inspire Imaginative Play!
For this list I tried to find toys that span multiple ages, so that they can grow with one child or work for siblings, and also toys that had multiple uses. Have a toy that is a favorite for imaginative play in your house? Share it with us in the comments!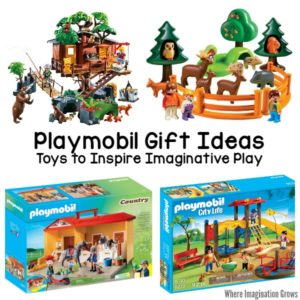 Playmobil Sets – I can't speak highly enough of these award-winning, high-quality play sets for kids. They are amazingly well made and kids can play for hours with each set. We have several sets but my daughter LOVES the Playmobil Playground set (she's had it for over 2 years now) and this Adventures Tree House set.  Have a toddler? These Playmobil 123 sets are perfect for younger kids. My kindergartner still plays with her Forest Animals 123 set so they definitely have longevity.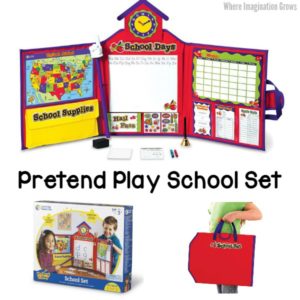 School Pretend Play Set – Kids love to play school. They love to imitate teachers and be students. I love watching my older kids play school with the younger ones. It's amazing to see how they see teachers and how they compassionately 'teach' their younger siblings and friends. This 149-piece set includes tri-fold board, grade book, stickers, hall passes, dry erase board, hand pointer, crayons, double-sided calendar, double-sided map, and more!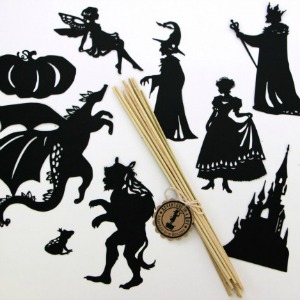 Shadow Puppets – My kids love shadow puppets and these stunning ones from Adventure in a Box are our absolute favorite! We have the Make-a-Fairy-Tale set and they are amazing. Its a 12 piece set with everything you need to create a fairy tale story. My daughter loves to play with them in the evening, they make a perfect before bed quiet time activity.  She and the daycare kids put on little shows with the shadow puppets and they've held up to the heavy use. Adventure in a Box also makes awesome custom wooden toys and can turn your child's art into jewelry. Check them out!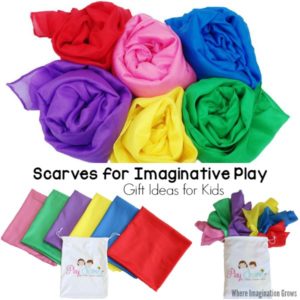 Play Scarves – I always get questioning looks from people when I suggest scarves as a gift idea for kids but if you truly want something that inspires imaginative play grab a pack of scarves! Yes, these are a super simple gift idea and not your everyday gift (especially in today's electronic heavy world) but the scarves have a million different uses. They are an amazing tool for imaginative play because kids can use them for anything, from fort building to dancing to dress up and so much more! My kids use them as props when they use animals or dolls, scarfs become houses, grass, water, and all kinds of creative things!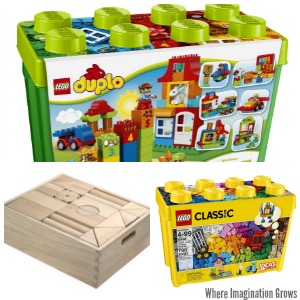 Building Blocks & Lego – Blocks and building sets are some of the best open-ended toys for kids. They can literally build anything they want, the possibilities are endless. Plus these toys grow with your kids. I highly recommend a set of wooden unit blocks. I have two sets and they are literally the BEST investment I ever made. Lego building sets are also great for older preschoolers and older kids. For younger kids I definitely recommend Duplo blocks over Mega Bloks. My best piece of advice when it comes to using Lego for open-ended play is to skip the intricate themed sets and stick to the classic brick sets. It's cheaper and kids have more freedom to build whatever they can imagine.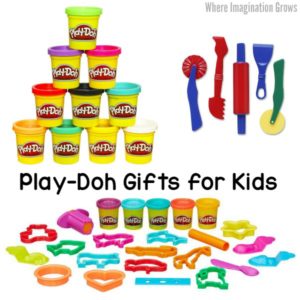 Playdough – There are so many ways to play with playdough! From homemade playdough to store bought Play-Doh you can't go wrong with this fun material.  I usually let my kids play with playdough and some cutting tools and/or cookie cutters but there is a wealth of ways to use playdough for learning. Just google playdough learning activities! You can find everything from games to play with your playdough to printable for playdough learning.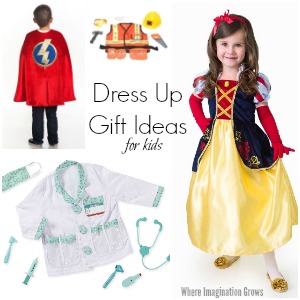 Dress Up Clothing – Kids love to play pretend and having an array of dress up clothing is a must. Kids explore and imitate the work around them through dress up and pretend play. You can find dress up outfits for careers and favorite television characters even. My kids love playing construction worker, doctor, and even superheros. If you are looking for princess dresses I highly recommend dresses by Little Adventures because they are very well made. My daughter has several that the have outlasted the Target bought dresses and are much better quality. Also check local secondhand stores for used uniforms and Halloween costumes, even just everyday clothing and hats are perfect for dress up.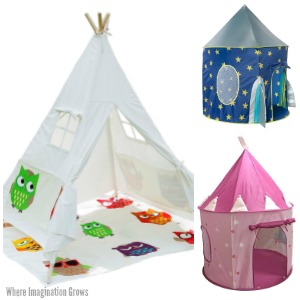 Play Tents – Kids will make forts out of everything, unfortunately some times you need you blankets or furniture for other uses than making forts. That's where these fun tents and adorable tepees come in! It's a fun space just for them to pretend with and play in. From reading to playing games these tents are always a hit! There are so many options for play tent themes too, from princess castles to rocket ships and much more!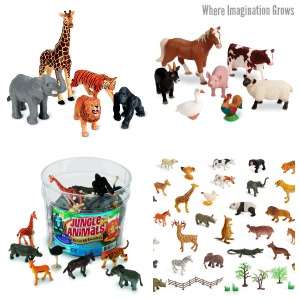 Animals – Besides blocks, animal toys have been the most use toys over the years in my daycare. What kid doesn't like animals? No matter if you need a jungle animals set or a mixed animal set they can keep kids busy for hours! Plus animal toys like these can grow with your children. I have several variations of animal toys but by far our jumbo animals (we have farm, pets, and jungle sets) and Safari Toobs are the kids' favorite.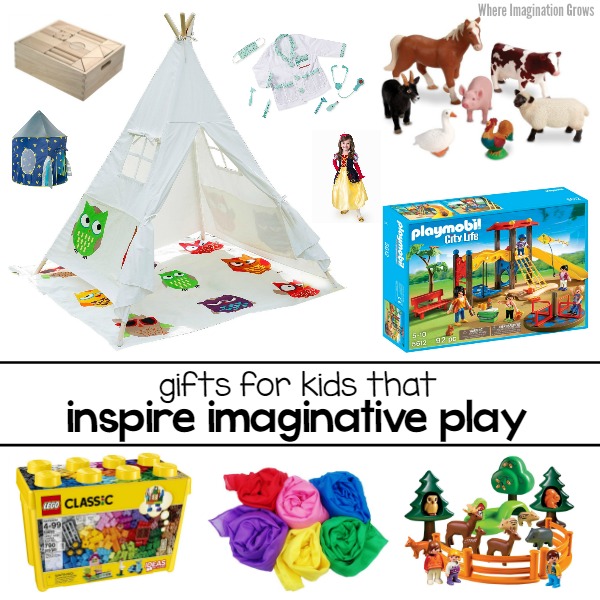 There's so many great toys for kids out there that it's hard to narrow them down to just a few! Did we miss a favorite? Tell me about it in the comments!
Check out these other gift guides full of exciting gifts for kids: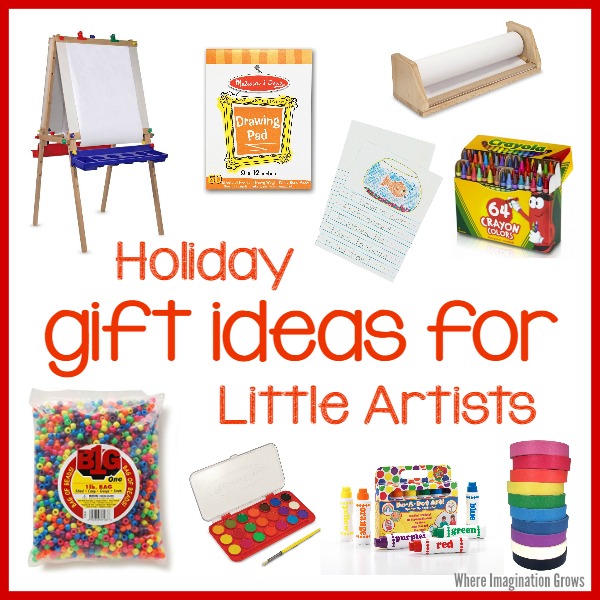 Looking for more crafts and activities? Check out our index for 100+ plus kids activities! Find activities by theme, materials, skills, age and much more!