Being outside and exploring nature is something that we do a lot of. Lately we've acquired a large collection of leaves, seeds, and flowers that the kids find on the ground and bring home.  I've been trying to find ways to corporate them into our daily activities.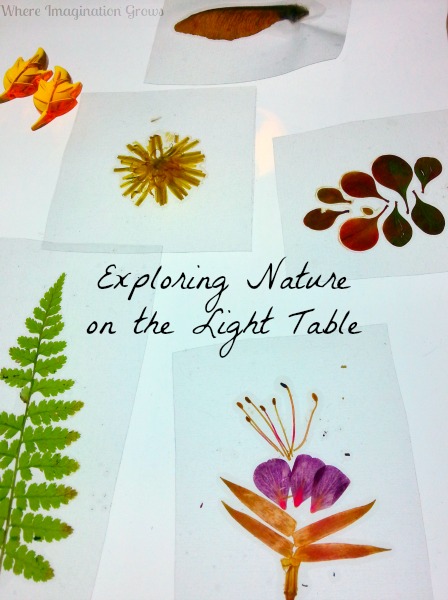 Today some of the kids were playing with our fall tree activity on the light table and one of the daycare girls decided to add the flowers from our nature collection.  This was a great idea, I tried to think of ways to expand on it a bit.  I ended up placing some of the other leaves and flowers in between two pieces of contact paper, I pulled them apart a bit so the light would shine through and they looked more like nature slides.
We ended up with these: (some of the pictures look better in person, my camera doesn't pick up the color very well on the light table)
(Note: I started to create an edging with painters tape around the prints, hence the blue tape on the leaf, like
these shape one
I have been meaning to make but the kids were eager to start exploring so I just let them play rather than finishing the edging)
"Can I smell them?"
We also had fun putting them up to the window and using the sunlight to explore:
…and putting different colored items behind them to find colors that matched!