My daughter loves to play dress up and any sort of dramatic play activity.  She's especially fond of cooking and kitchen dramatic play activities lately. This spaghetti shop for kids pretend play activity has seriously been one of her favorites and she spent a long time (a hour and 20 minutes!) playing and exploring with the spaghetti!
Dramatic Play: Spaghetti Shop for Kids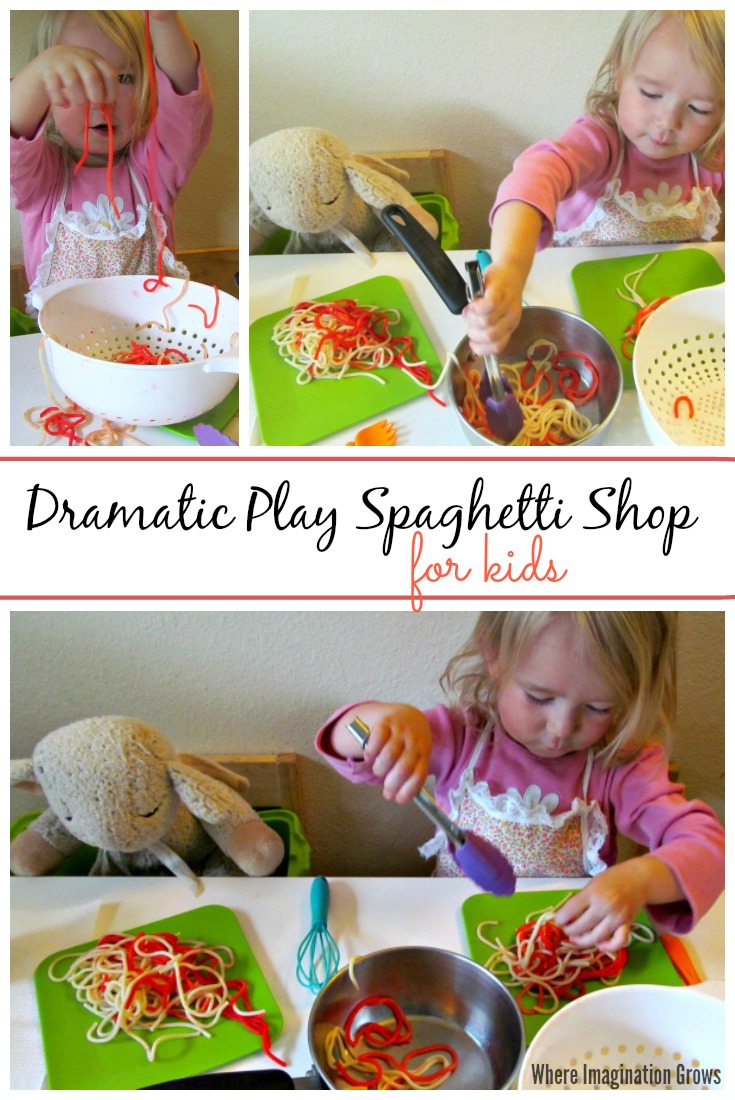 Post contains affiliate links for your convenience.  See my disclosure for more info. 
For this spaghetti shop for kids pretend play prompt I set up the following:
Small pan
Strainer
Apron
Plain cooked noodles
Colored noodles (see below for how to color noodles)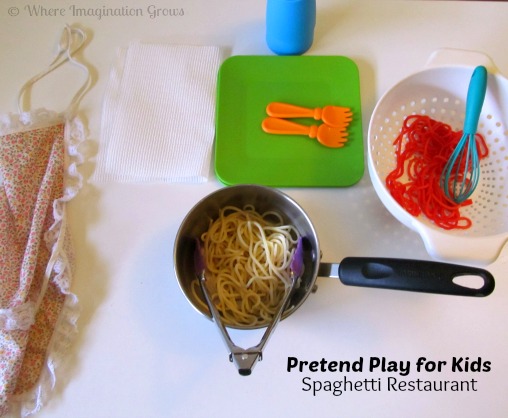 I set everything out and let my daughter decided how she wanted to set up her play area.  She checked everything out at first and then ran to get her "best friend Lambie" so she could "make dinner."  Lambie even got a special booster seat so he could reach his food.
MB was in heaven with this activity.  We've made spaghetti together numerous times but it was fun to watch her "make" it herself.  She thought the red noodles (aka the "Sgetti sauce") were so cool and was very engrossed with making her spaghetti.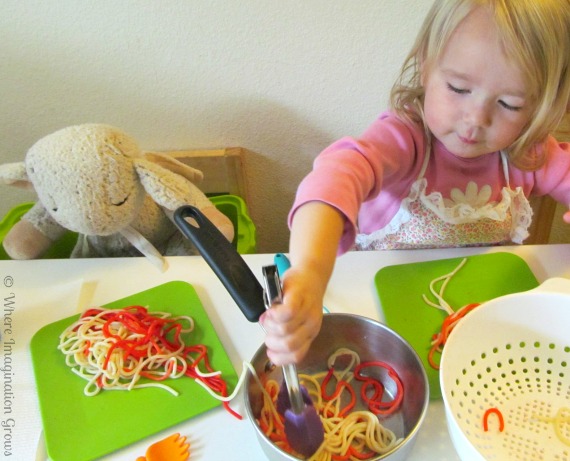 Those tongs and slippery spaghetti noodles definitely got the fine motor skills working too! in addition too imaginative play she was doing with this activity, one of the coolest things to MB was that she got to use real kitchen tools.   The pan, strainer, tongs and whisk are all utensils that we cook with so that made it extra special to her!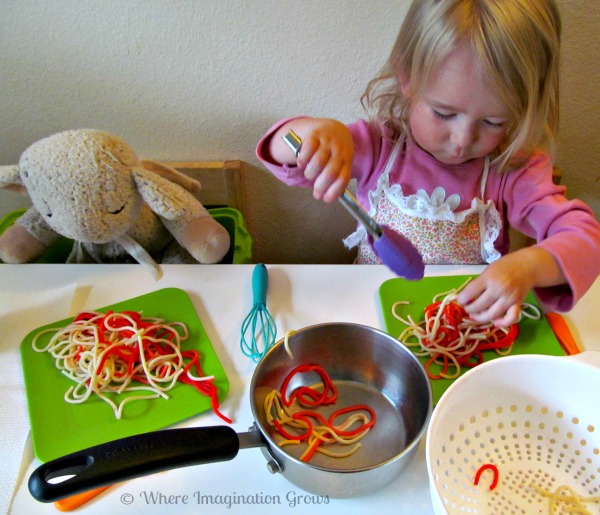 Sure it ended up a bit messy and she tried a few bites (she decided that spaghetti is better when it's hot) but watching her play and the conversations she had with Lambie while cooking and eating her "dinner" were priceless!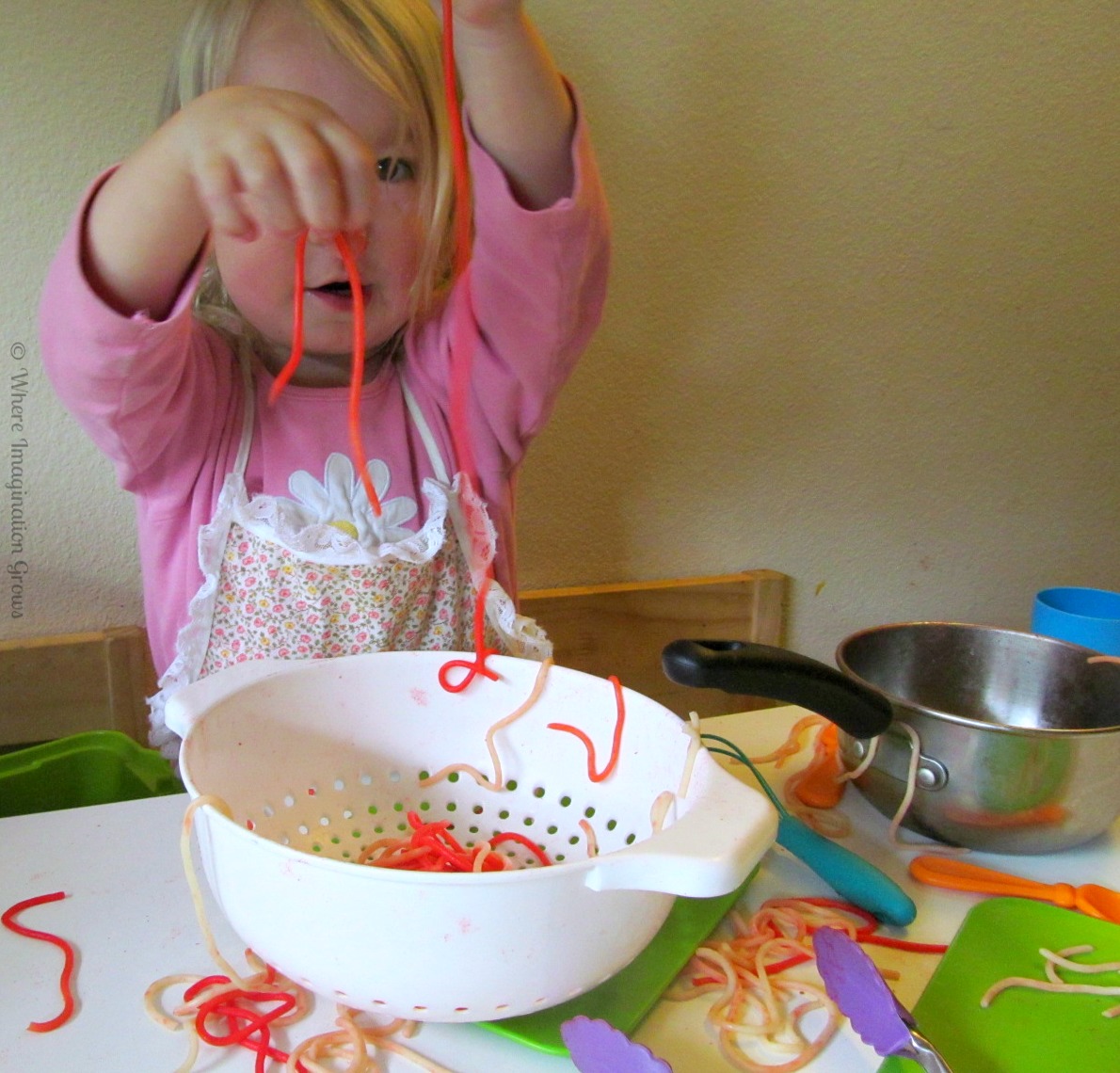 How to Color Pasta:
Cook & drain pasta
Rise with cold water in strainer
Place pasta into plastic bag (for multiple colors separate into multiple bags)
Add red food coloring to bag*
Mix well & leave to sit for a few minutes (mine sat about 5)
Rinse excess color off in strainer
*I realize not everyone is comfortable using food coloring but there are natural alternatives or you can omit this portion of the activity if you don't feel comfortable using food coloring.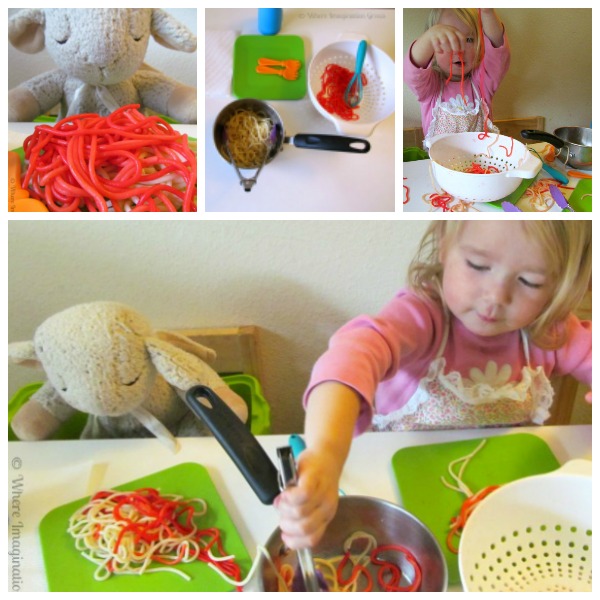 Looking for more crafts and activities? Check out our index for 100+ plus kids activities! Find activities by theme, materials, skills, age and much more!