Add a fun twist on a simple ABC I-Spy discovery bottle game by making it glow in the dark!
Discovery bottles and I-spy bottle games are always fun activities that are loved by kids.  Today we are making glow in the dark themed discovery bottles as part of this month's Discovery Bottles Blog Hop hosted by Preschool Inspirations. Check out all the fun!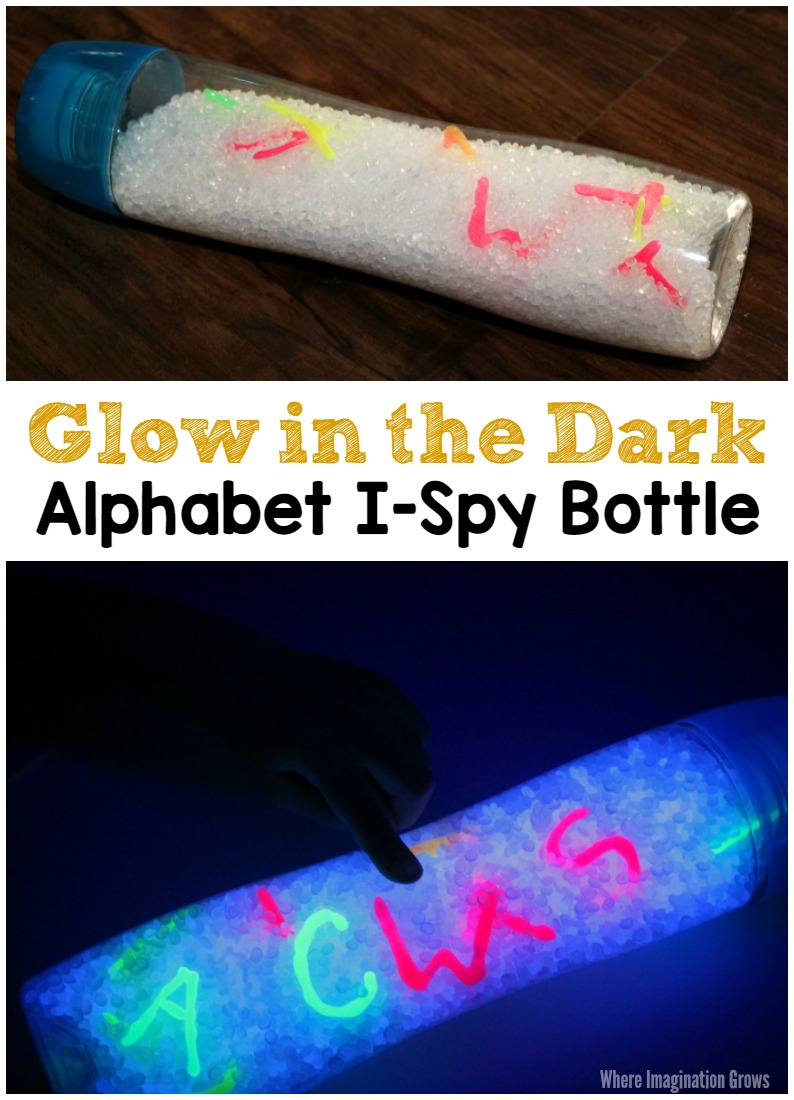 Post contains affiliate links for your convenience, see disclosure for more info.
Glow in the Dark ABC I-Spy Discovery Bottle Game
This activity was inspired by our glow in the dark letter matching sensory bin.  We used the same materials in a new way to create this fun I-Spy sensory bottle! It's been such a hit with the kids. They love looking for letters and trying to spell.
Materials:
Poly-Pellets (or rice)
Pan or aluminum foil
Empty water bottle
Use your neon glue sticks in your hot glue gun and "write" out the letters in glue on a non-stick pan (we have a crafting specific one) or on aluminum foil. I used several different colors so there was some variety.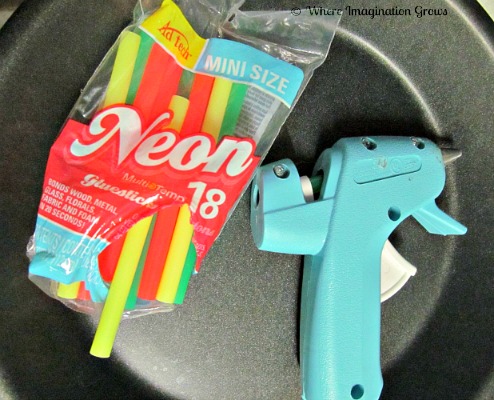 Once the letters have cooled, simply pull them off the surface you used to create them on and set aside. Get out your Poly-Pellets and empty water bottle. Our water bottle is Core Hydration brand but Voss bottles are popular to use. I wish that we could find them but our local stores only carry the small glass ones and I prefer to use plastic for these. Check your stores for them!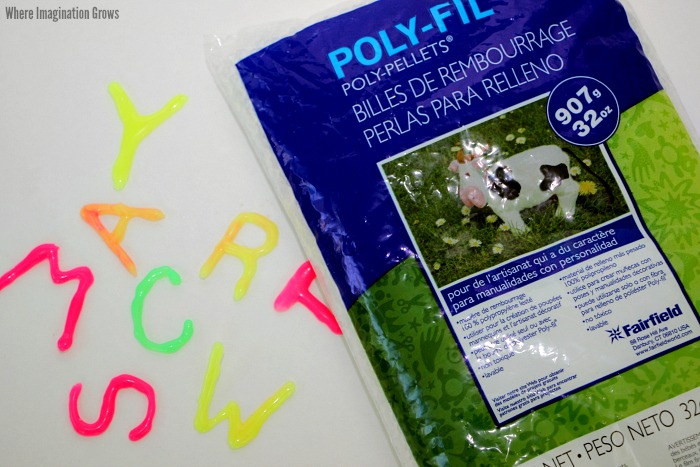 Pour your pellets (or rice) into the bottle, adding letters here and there to space them out within the bottle. I only filled our bottle about 3/4 full so that the kids could shake it and find letters.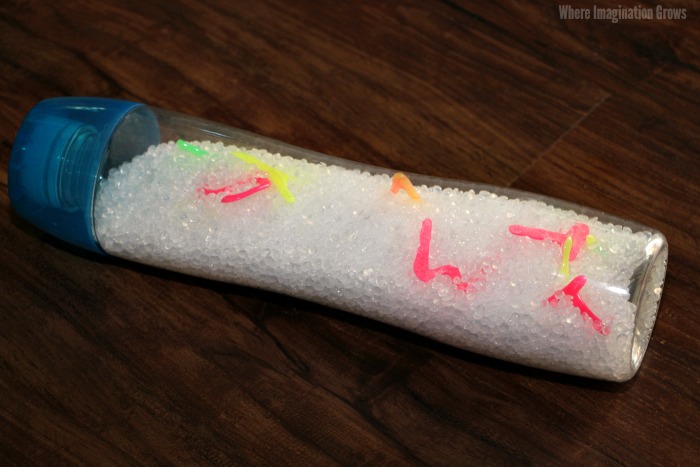 To get it to glow in the dark just turn on your black light and the neon colors instantly turn into glowing letters!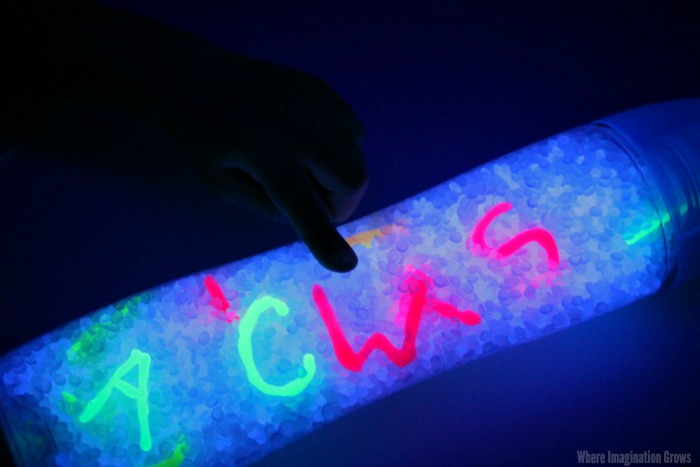 Ta-da! A glow in the dark I-Spy sensory bottle game! The kids loved this! They tried to find the letters in their names and they also took turns finding letters and spelling simple words!
Find more glow in the dark discovery bottle games here:
Simple Glow in the Dark Water Bead Sensory Bottle | Preschool Inspirations
Glow in the Dark Ocean Bottle | Sunny Day Family
Cool Glow In the Dark Chalk Sensory Bottle | Sugar Aunts
Glow in the Dark Loom Band Sensory Bottle | Rhythms of Play
Easy Glow in the Dark Beads Sensory Bottle | Mom Inspired Life
Glow Sticks Sensory Bottle | Teaching Mama
Click here for more glow in the dark activities or on one of the images below: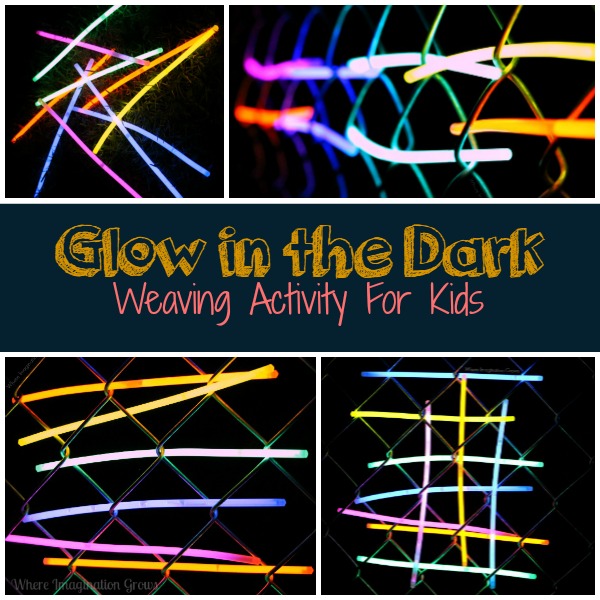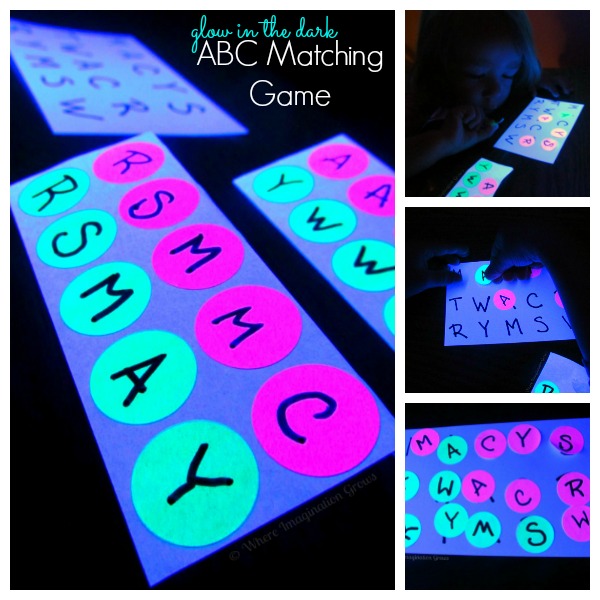 Looking for more crafts and activities? Check out our index for 100+ plus kids activities! Find activities by theme, materials, skills, age and much more!