Not sure what interview questions daycare providers should ask when interviewing potential new families? Don't worry! Below you will find a list of questions that all providers should ask families during interviews.
Interviews are the first step in getting to know potential daycare clients. As a daycare provider you want to make sure you are asking the right questions. You don't want to accept families that turn out to have a totally different view of child care. It will be nothing but headaches for everyone, headaches that could have been avoided if you'd asked the right questions.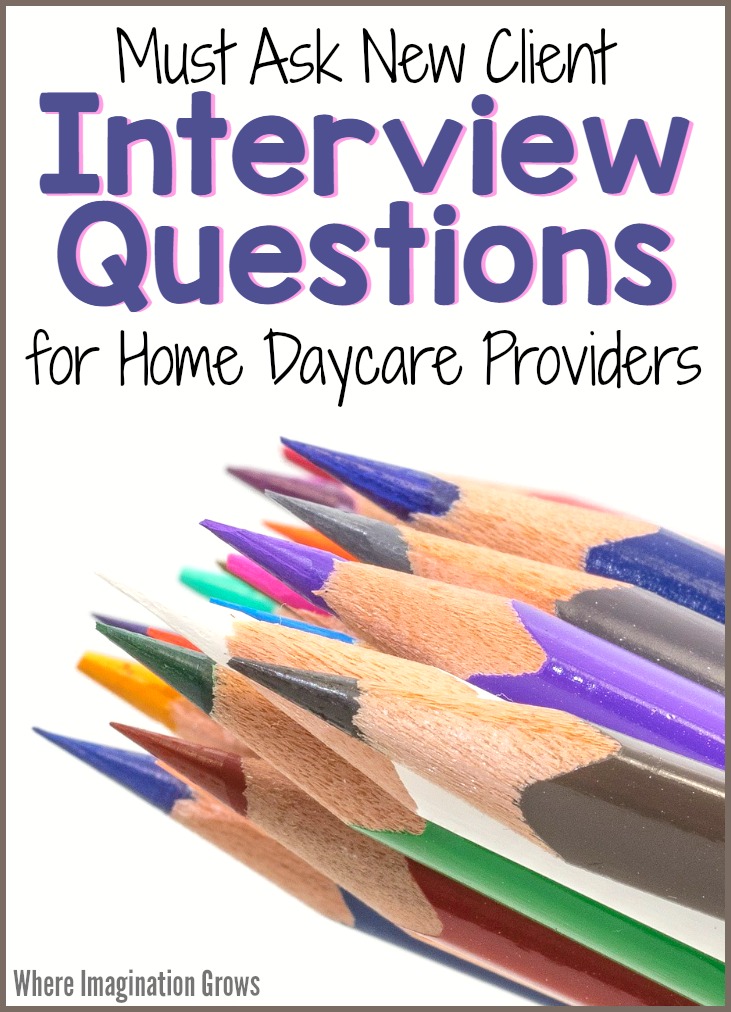 Interview Questions Daycare Providers Should Ask
Remember, before you even get to interviewing daycare clients you should be asking general questions via email or phone. You don't want to go into these totally blind. I generally discuss with my rates and give them a brief overview of my policies before I even schedule an interview. There is no point in interviewing a family that needs hours outside of your working hours or a family that wants to pay something less than you charge.
General interview questions daycare providers should ask at each interview:
Has your child been in daycare (not provided by family) before?

If so, why are you seeking care elsewhere?

How long do you expect to need child care?
What do you expect from a daycare?
Do you have back up care available?
Is there someone (parent or other) that can pick up immediately in case of emergency?
Does the child have any heath issues?
Are your child's immunizations up to date?
Do you have any special needs/requests? (ie religious/personal dietary restrictions, etc)
What is the child's current sleep & nap schedule?
Explain the child's eating habits? (ie picky, adventurous, can/can't use cup, etc)
Is the child potty trained?

What are your thoughts on how to potty train?

What are the child's interests?
What is the child's personality like?
Are you OK with messy play and art?
How do you handle behavioral issues at home?
Are you willing to sign a contract?
Infant specific interview questions daycare providers should ask:
Does the infant take a bottle?

If not, are you willing to try one before starting at daycare?

Is the infant breastfed or on formula?
Daycare requires at least [number] bottles worth of formula/breast milk in addition to daily needs in case of emergency or spills, can you supply this and replenish if needed?
Where does the infant sleep?
What is the infant's sleeping routine?
Do you use cloth or disposable diapers?
Questions about schedules and family life that can affect daycare:
Does the child have other siblings? Ages?
What do parents do for a living?
Are work schedules consistent or do they fluctuate? Full time, part time, or seasonal?
What is marital status of parents?

If not together, is there a custody agreement for the child?

Will the child be here full or part time?
What hours are you needing care for?
Do you understand my sick policy?
Are you willing to agree to my holiday closure schedule?
These questions should give you a good impression of the potential family and how they will fit within your program.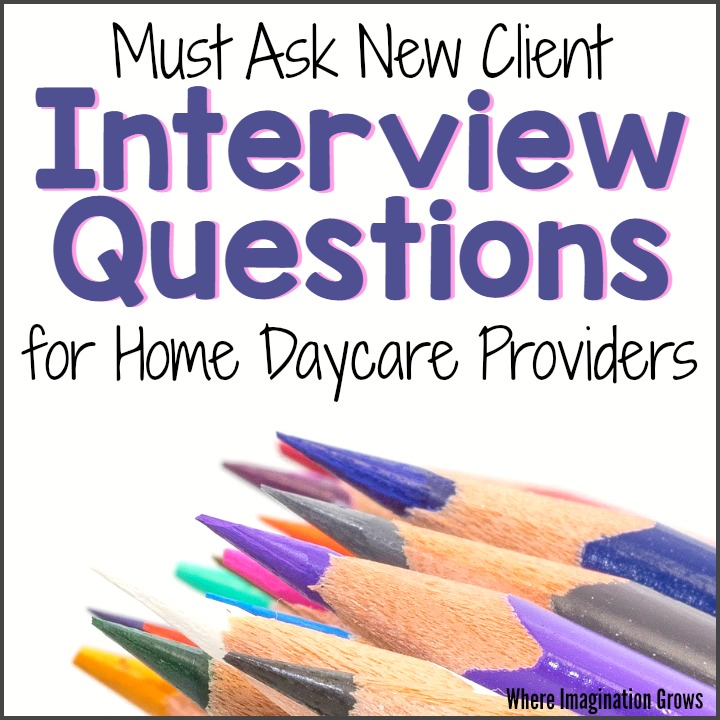 Add any other questions that are pertain to your business. Require payment for holidays you are closed on? Not open during the summers? Make sure that you ask potential clients how they feel about these things. If they aren't comfortable then move on to another family.
Remember- Not all families will fit. Don't take anyone just to fill spots, be selective.
Already know what you want to ask but now sure how to handle the interview process? Check out these tips for interviewing new daycare clients like a pro.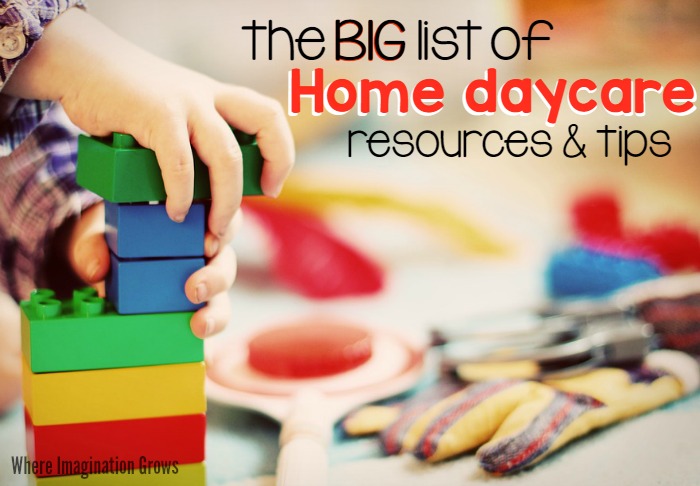 Looking for more post about running a daycare? Check out my daycare page to learn about starting or running an in-home daycare.