Ahoy! Let's be pirates and put our favorite slime recipe to use!
We're back for another round of the Poppins Book Nook, a virtual book club connecting books with art projects and learning activities! This month our book/craft theme is "Ye Old Pirates" so we dug through our favorite pirate books for kids and had a blast learning about pirates!
We finished up our pirate story time with some pirate slime full of buried treasure!
Pirate Slime Recipe & Sensory Play for Kids

Post contains affiliate links for your convenience, please disclosure for more info.
We started this activity by heading to the library and picking up a few pirate books.  My daughter and the daycare girls loved all the stories but The Night Pirates by Peter Harris seemed to be their favorite.  This story follows a little boy named Tom as he takes off on a nighttime pirate adventure with a band of girl pirates! I love the illustrations and the easy to follow story line is great for preschoolers! We've read it before bed for a week, it's my daughter favorite.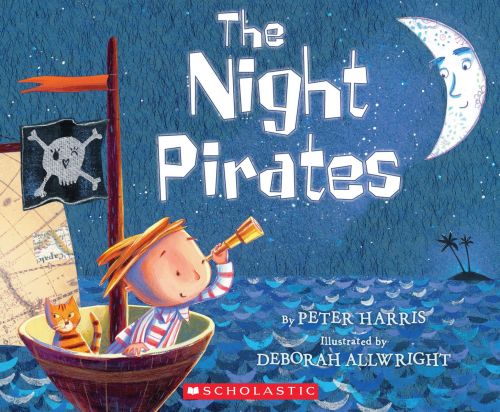 Up next we had our own pirate adventure with slime!  We made up a batch of this simple slime with our easy slime recipe and filled it with treasure for our pirates to uncover!!
Materials Needed to Make Pirate Slime:
Clear School Glue (1 bottle)
Borax
Large mixing bowl
Cup (small/regular cups are fine)
Glitter*
Water
(* We received our glitter free from CraftProjectIdeas.com but you can find their products at your local Walmart (worth it! Check them out!)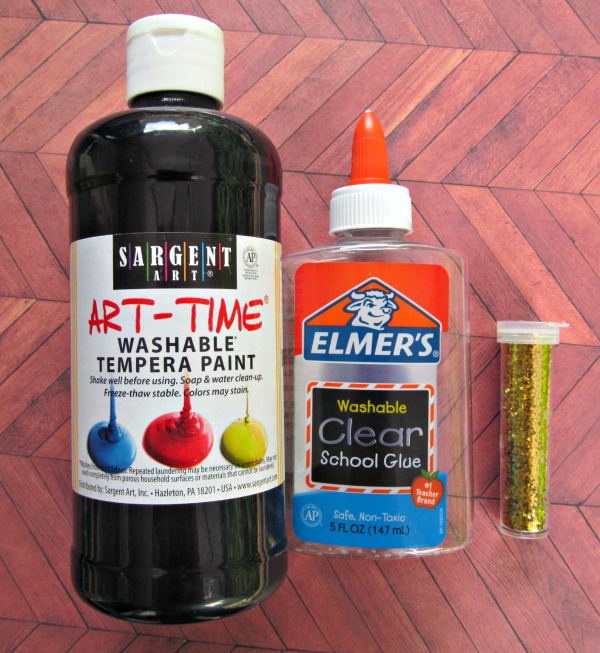 Pirate Slime Directions:
Empty the entire bottle of glue into a mixing bowl. Fill the empty bottle with warm water and add paint or liquid watercolor and shake until desired color is achieve.  Pour the water into the mixing bowl with glue and use the spoon to mix well.
Add Glitter
Measure 1/2 cup of warm water into the cup and add a teaspoon of Borax powder to the water. Stir the solution until mostly dissolved.
Slowly stir in the Borax/water solution, adding a little at a time. You'll notice the solution beginning to clump. Keep adding the Borax solution to the glue mixture and stirring (hands work best!) until you get the consistency you are looking for. We only use about 3/4 of the borax solution because my kids like it kind of sticky and slimy. The more you add the firmer it gets.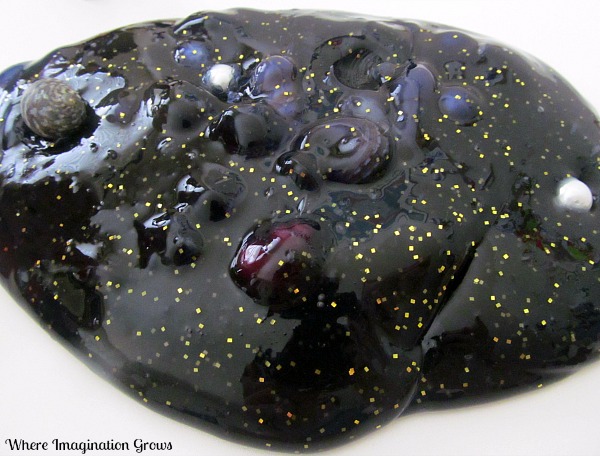 We make black slime because the girls decided that pirates need a challenge.  They didn't want them to be able to "see their treasure" though the slime, it needed to be hidden. The pirates needed to go on and adventure, they needed to use their maps and search through the dark abyss of the ocean for their treasures.
Once our slime was made we rounded up a bunch of random loose parts to use as our pirate's treasure.
Pirate Slime Play Materials:
Pearl Beads
Glass/Acrylic Gems (We used Acrylic ice rocks)
Pirate Treasure Box ($1 @ Micheals)
Once you find your treasure items mix them into your slime and get those pirates ready to go on a treasure hunt!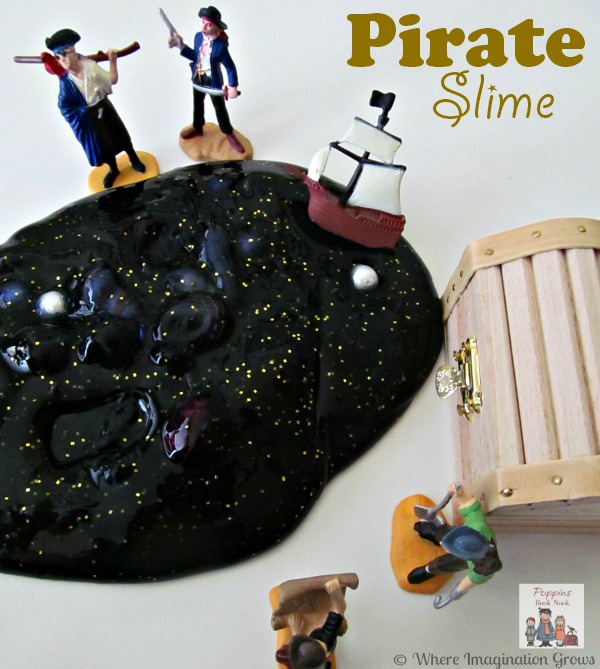 The kids loved being pirates and playing with this slime. It combines two of their most favorite activities, pretend play and sensory play. They took turns "hiding" the treasures in the slime and being pirates.
When you add things to the slime they sink down into it. We then folded slime over the top of it so that they were "hidden" in the slime. They kids also liked to stretch and pull the slime apart and then cover the treasure.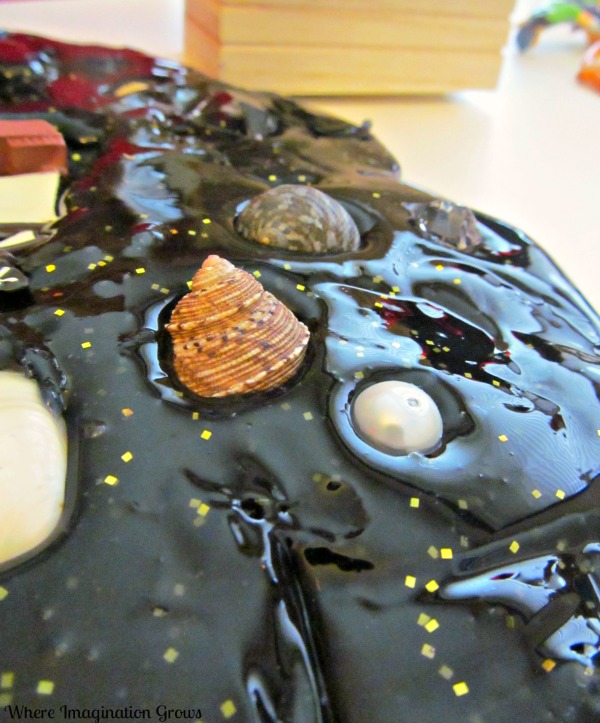 After quite the battle the pirates had all the treasure into their treasure chest!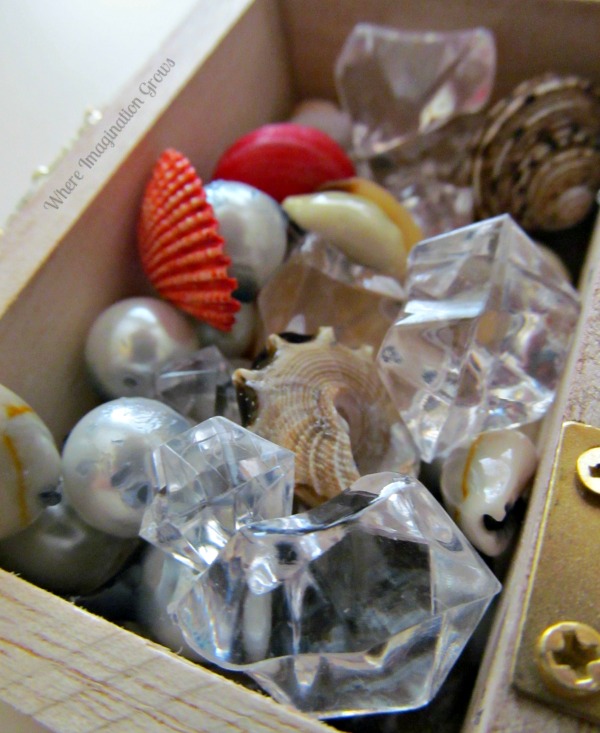 And what kind of pirates would they be if they didn't guard their treasure?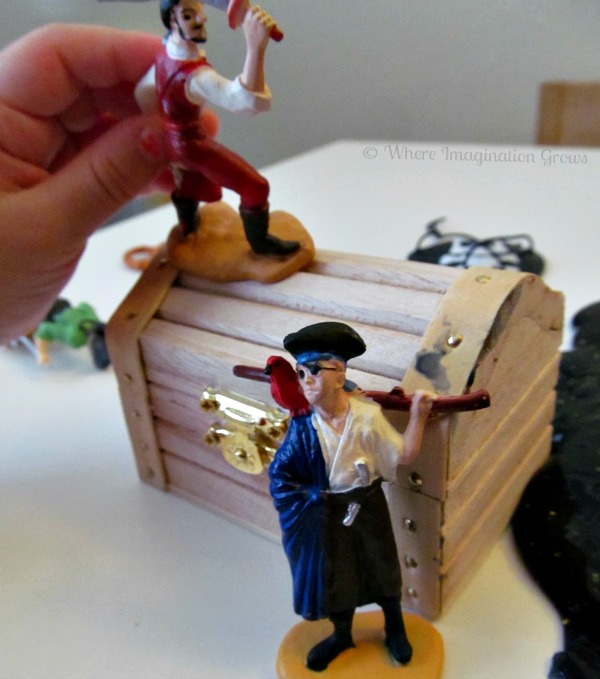 Arrr!  It's lots of fun matey's!  We played with this for such a long time!  All the kiddos LOVED it, we will definitely play with it a lot more!
*Clean-up Note* A bit of advice when playing with slime recipe like this, do not get on clothes or carpet. It's basically a glue concoction so it will stick. However, you can soak clothing (and hair if necessary) in hot water and it will break down the glue.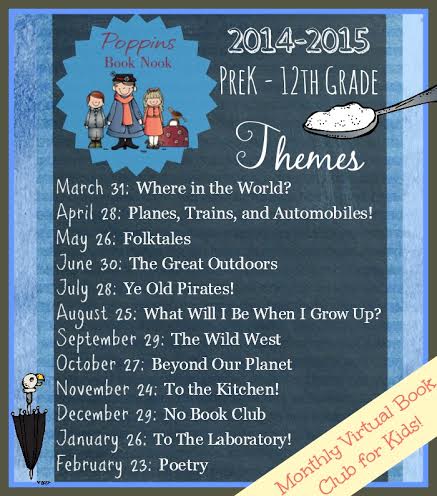 Make sure to follow Poppins Book Nook on Facebook and Pinterest too!
Loading InLinkz ...
Looking for more crafts and activities? Check out our index for 100+ plus kids activities! Find activities by theme, materials, skills, age and much more!