This shop has been compensated by Collective Bias, Inc. and its advertiser. All opinions are mine alone. #PlayWithPlaymobil #CollectiveBias
Kids love to play pretend and today we have a fun school bus small world prompt to inspire your kids to dream up a school environment of their own. Whether your kids are just starting school, adjusting to a new grade, or just love seeing school buses they will love this fun small world activity.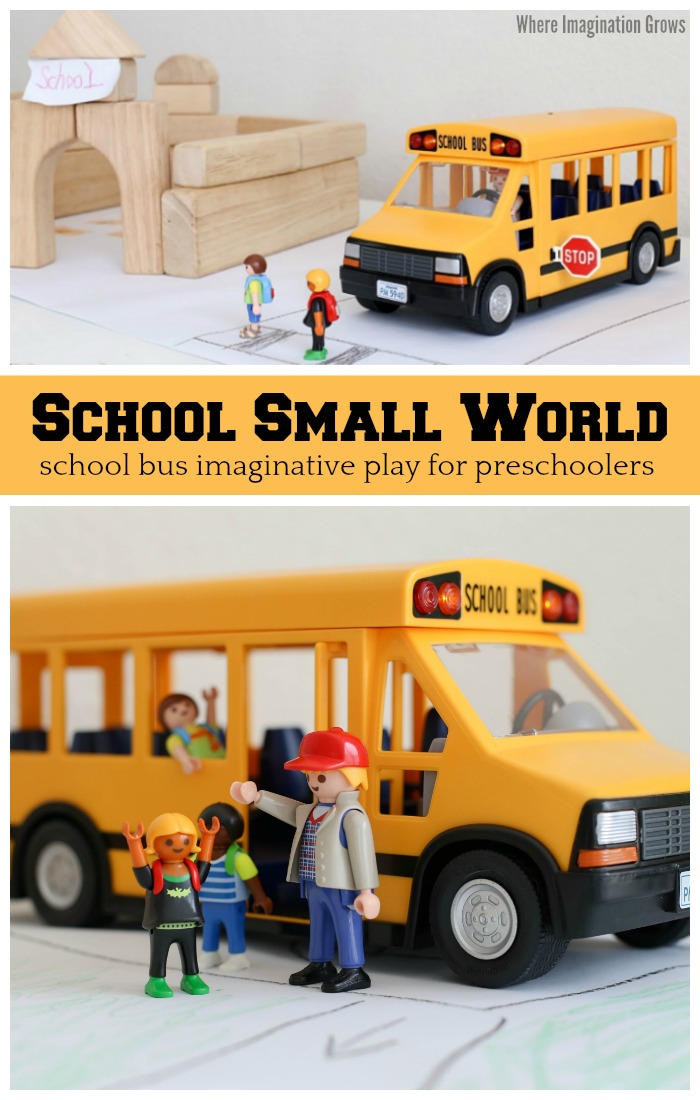 School Bus Small World for Imaginative Play
Unstructured imaginative play for young children is so important, especially in today's world of electronic devices. Kids only need a few simple ingredients to create elaborate worlds where they can live out real world feelings, events, and ideas though play.  Today we were inspired by our PLAYMOBIL school bus to create fun school themed pretend play prompt. PLAYMOBIL has so many different toys that can inspire hours of imaginative play and this bus was a perfect example of that!
Materials Needed:
Large roll of paper
Crayons or Markers
Blocks
Isn't the bus so adorable?! Click the image below to get your own!
This simple school small world can be created as big or small as children want. Giving them art supplies and blocks with an open-ended toy, like this PLAYMOBIL School Bus, allows them to take control of their play. My preschoolers and kindergartner created a whole school to go with their PLAYMOBIL School Bus just using blocks and crayons. They played with it for hours!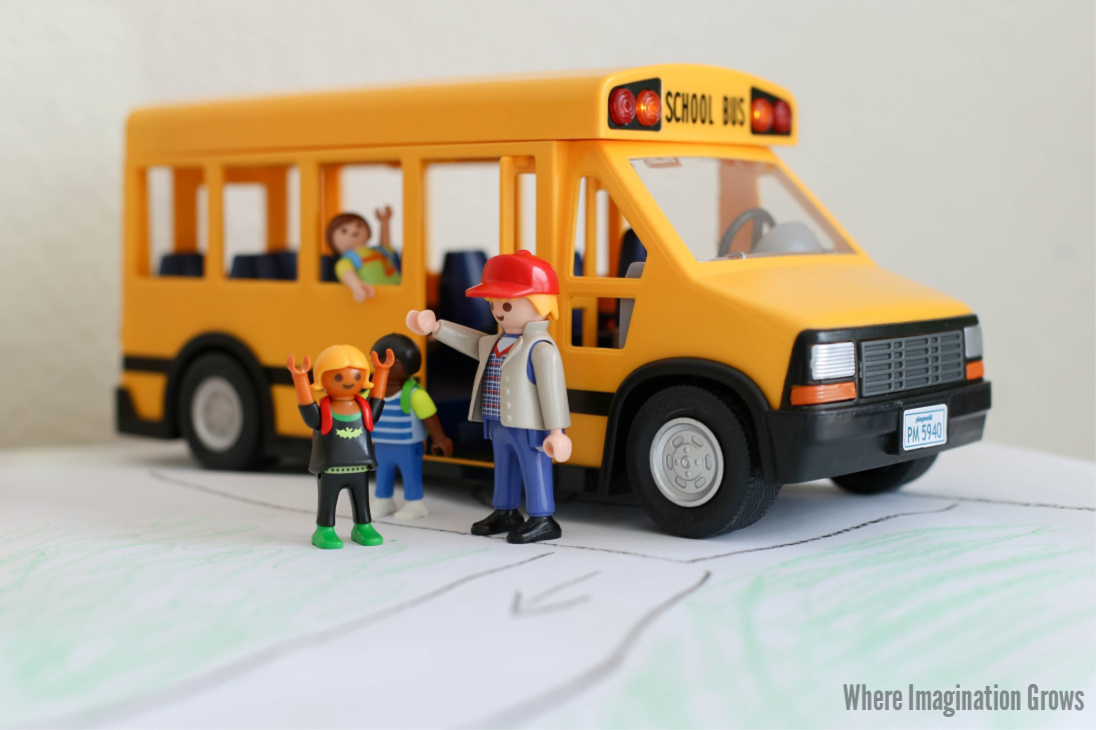 My kindergartner is new to riding the bus this year. She only does it for special events, like field trips and when she stays overnight with her friends who ride the bus, and it can be a bit overwhelming. Getting her hands on this bus and using it in this school bus themed small world has helped role play her fears.
She can act out the process so she feels more confident.
To build their school the kids had to share their ideas with each other, create a plan together, and find ways to fix problems with their designs as they arose. It involved sharing, listening, and working together. They took inspiration from real life, creating things like a crosswalk and even desks within their block made school.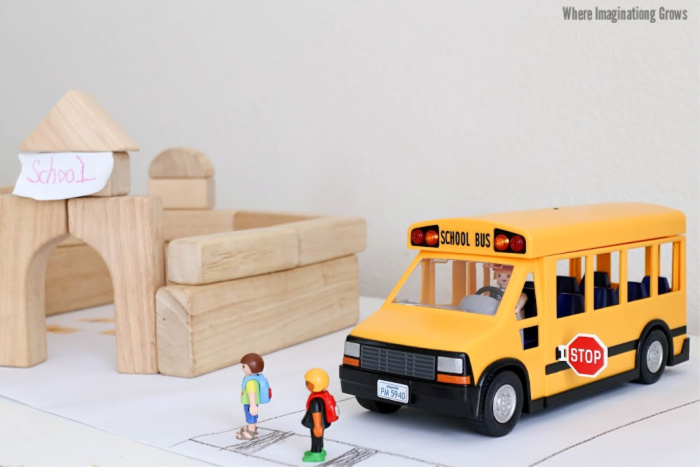 The kids even used our PLAYMOBIL zoo set to take a school field trip on the school bus! They rolled out a new sheet of paper and created a zoo with crayons and blocks.
It was a perfect way for my daughter to work through her anxiety about her own upcoming school field trip. Through play she got to plan out how maybe the class would get ready, how they would sit on the bus, and what would happen at the zoo. It was hands-on way for her to feel more confident about a real life social outing that was making her worry.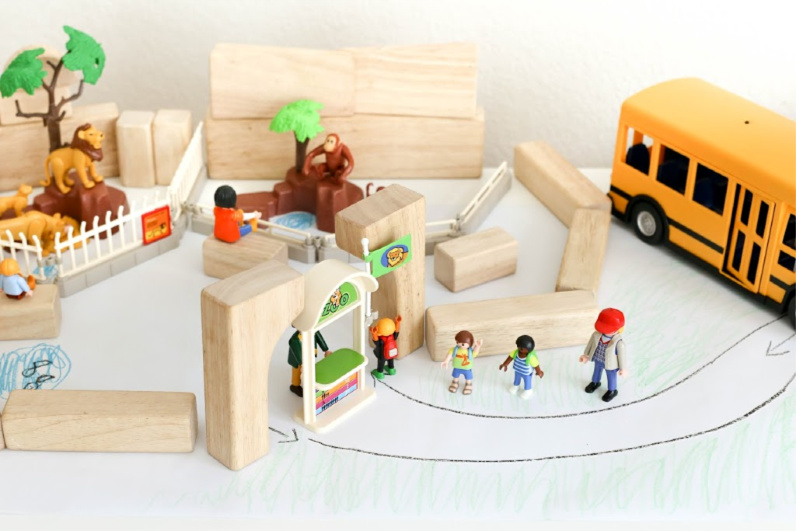 With PLAYMOBIL the possibilities are endless! There are so many stories and worlds that kids can create. From realistic to fantasy, PLAYMOBIL has themed sets that will surely capture your children's interest. Plus you can now find them at your local Walmart, which is where I got ours.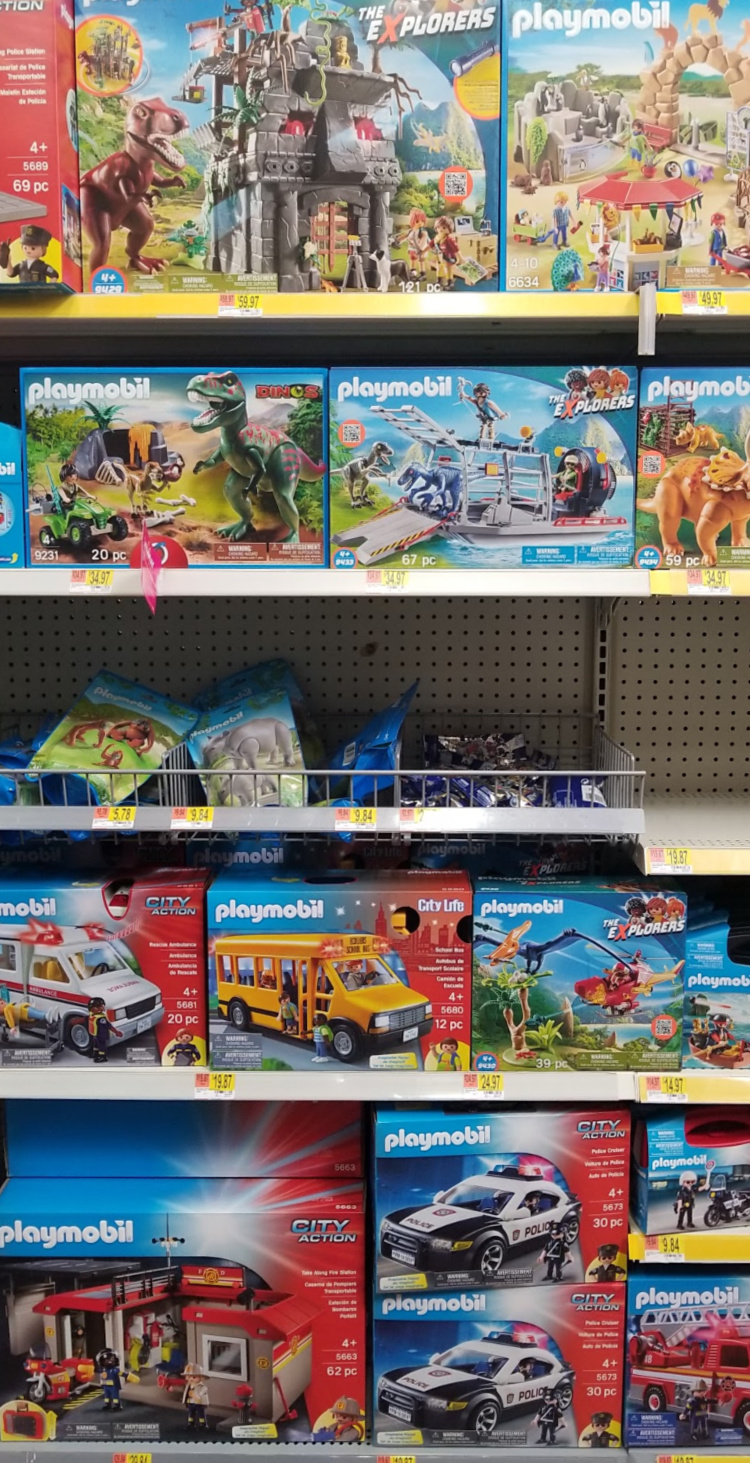 I run a home daycare and I need toys that will last. This school bus is used by a small horde of children everyday but it is built to take it! We have several PLAYMOBIL set. Some of our sets (like the playground and zoos sets) we have used for years. We've used these iconic and well detailed PLAYMOBIL figures in several imagination based activities, like our favorite pumpkin patch small world that the kids in my daycare look forward to every fall.
Imaginative play toys are not one time use toys.
Kids can play with them over and over. Creating new worlds and taking on new situations every time they play with them.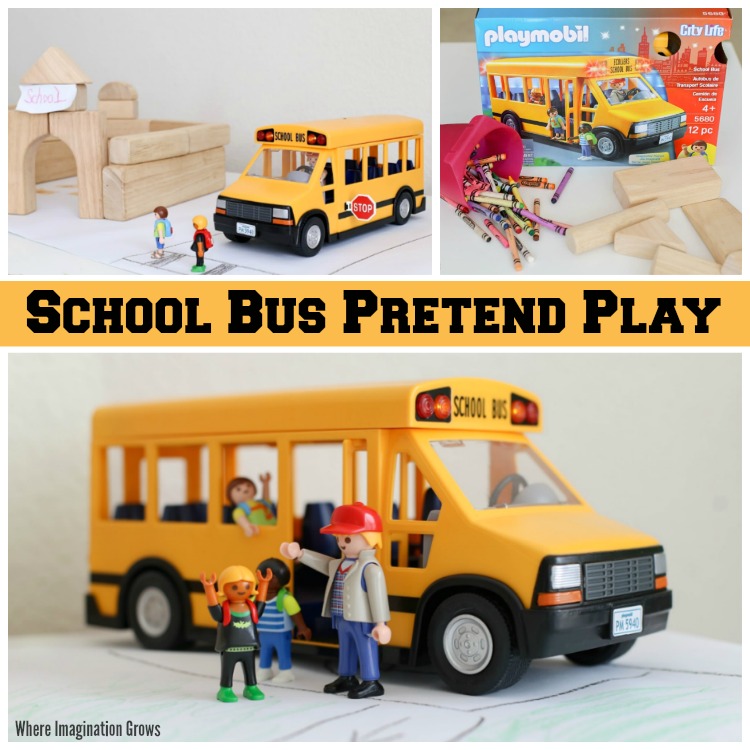 This school bus small world is just one way you can play with PLAYMOBIL!
Looking for more crafts and activities? Check out our index for 100+ plus kids activities! Find activities by theme, materials, skills, age and much more!