Have you played with water beads yet? They are seriously some of our favorite sensory materials!  The girls loved when we got to cut and squish them on the light table and even just simple water bead play is always a hit here!  Since spring is heading our way I decided to use some colorful water beads and created a fun spring sensory garden for the kids to play with!
Water Beads & Flowers; A Spring Sensory Bin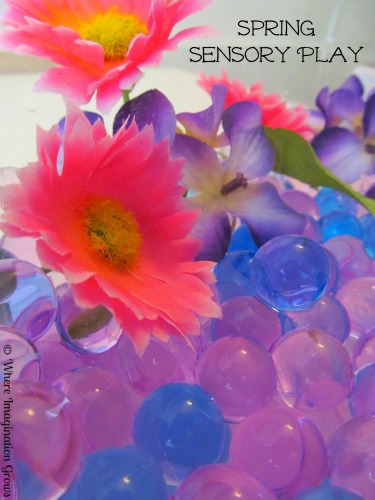 Affiliate links provided for your convenience, see below post or my disclosure for more.
This is a very simple sensory bin to put together and the whole thing cost me under $4 so it wasn't very costly.  Besides you can easily reuse the water beads and flowers for another project!
Materials:
Fake flowers (Dollar Tree)
Small plastic planting pots (Dollar Tree)
Tools for scooping
Plastic container(s)
I set the spring sensory bin out on the table with a pot and some flowers in the bin and I added more next to the sensory box. 
As the girls got up from nap they ventured over and started creating their own flower arrangements in the pots.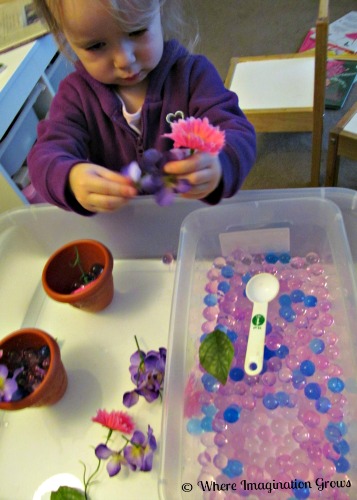 They each had their own special arrangements that they created; They sorted by colors at first and then a whole world of imaginative play took off!  Some smelled like cupcakes, others were princess flowers, and there was even both a monster and a fairy garden!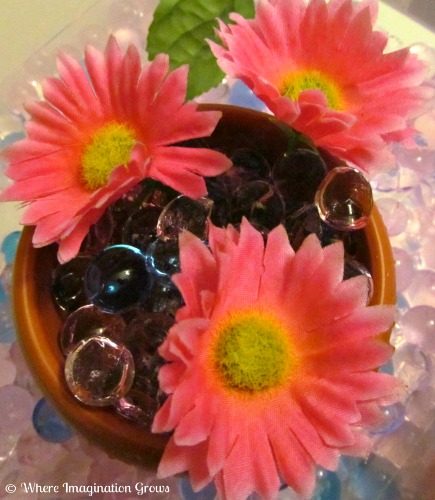 And just like usual, no activity is complete without a bit of counting bear action! The girls are currently OBSESSED with them.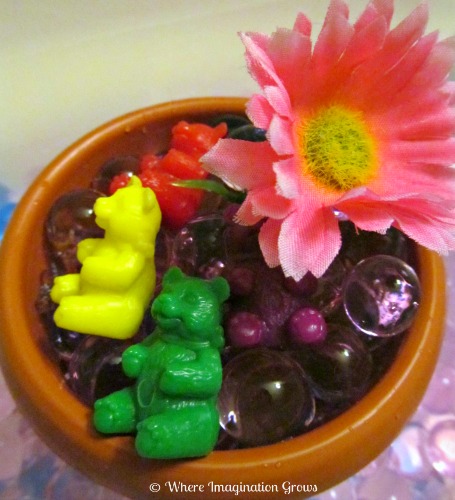 Poor hubby hid it well but I could tell he was a bit disappointed when he realized it was a "bear garden" they had created and taken to him, not a "beer garden" like he thought they said 😉
Have you given water beads a try yet?  If not you totally should!