Set up this photographer dramatic play prompt in your playroom and get out those old cameras! It's time to go wild and let your little ones become photographers for the day!
Do your kids love to dress up and play pretend? We recently did an awesome Dramatic Play Coffee Shop as part of the Dramatic Play A to Z series and it was so much fun that we decided to create another fun pretend play prompt.  Since someone always has a camera handy in our house (side effect of being a blogger) I figured why not make up our own little photo studio? This photographer dramatic play prompt was super easy to set up!
Photographer Dramatic Play for Preschoolers
Affiliate links provided for your convenience, see my disclosure for more info
Hint- Whether your camera has rechargeable batteries or regular ones make sure you have extra on hand! We used our camera so much that we went through three sets of batteries!
Materials:
Sheet
Table
Printables (See below)
Misc dress up/chairs/toys for props
Another pretend play prompt that is very easy to set up!  We have an IKEA Dignitet curtain wire set up on our wall to display all our art work and I used that as the anchor for our photo back drop (aka bed sheet).  I just clipped it onto the wire and then spread it out at the bottom.  I grabbed my old point and shoot camera, a tripod, and moved around some of the kids furniture in the playroom and ta-da! Done!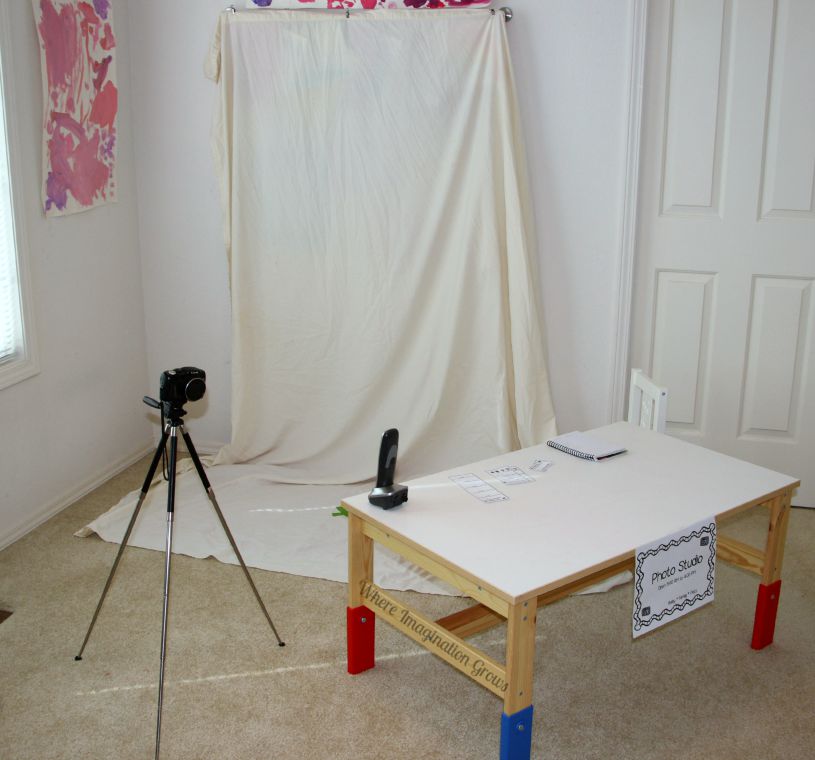 I also made a a few simple Photographer Printables for Kids for the kids to use.  I made name tags, a photo shoot information sheet so they could make notes about what their clients wanted, and a sign up sheet so they could keep track of who was next in line for their photo shoot.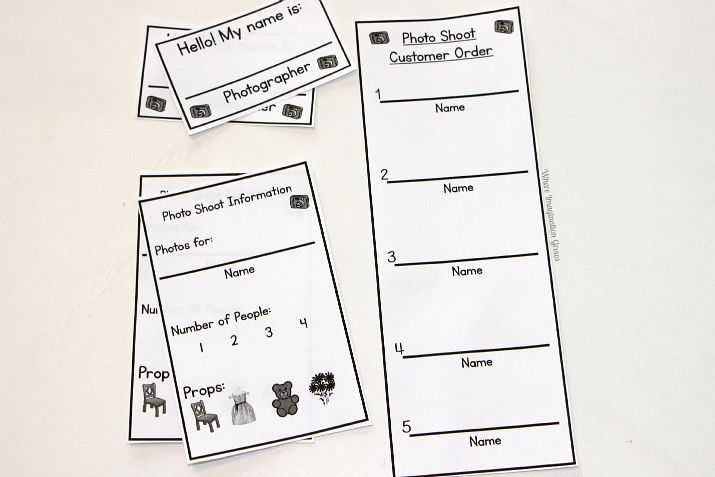 Once we were all set up my daughter was off organizing her animals and taking photos of them so she was prepared to take photos when her friends woke up from nap. We put a "X" in the ground where the person getting their photo taken should stand and that helped them keep the subject lined up with the camera.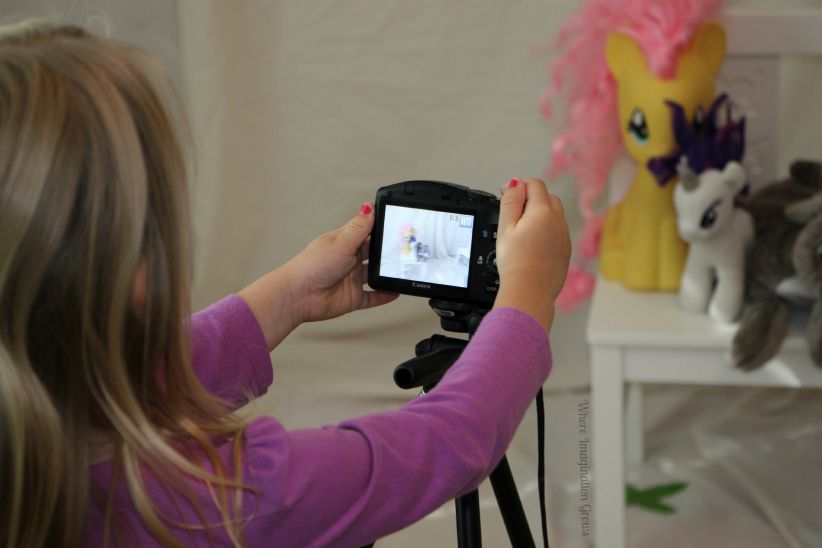 I loved watching the kids play with this dramatic play prompt! They had so much fun and it was very entertaining to watch them manipulate the camera and set up the photo shoots.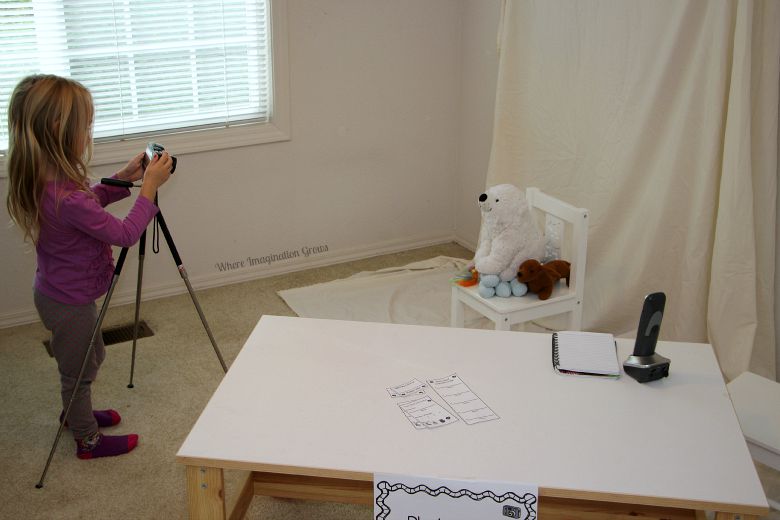 They wanted props and even outfit changes!  Striking a pose… Priceless! They had a blast!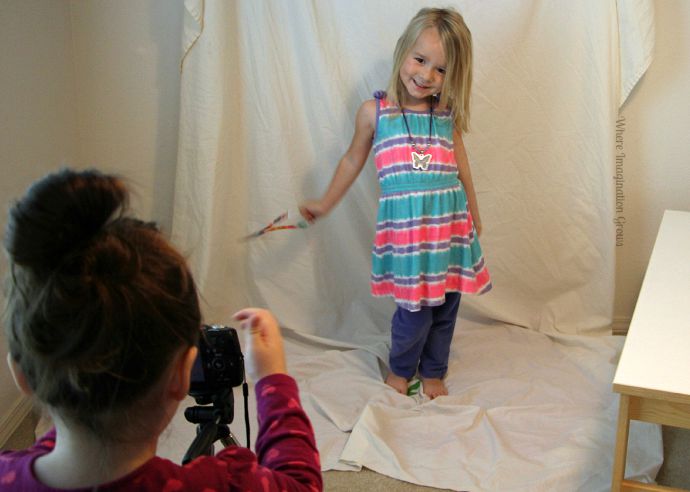 The best part was going through the camera when the kids were done.  The photos they took of each other were really fun and I was impressed with what they created.
Don't forget to check out our Coffee Shop prompt that's also part of this Dramatic Play A to Z series or click the image below to find more fun pretend play prompts to do whit your kids!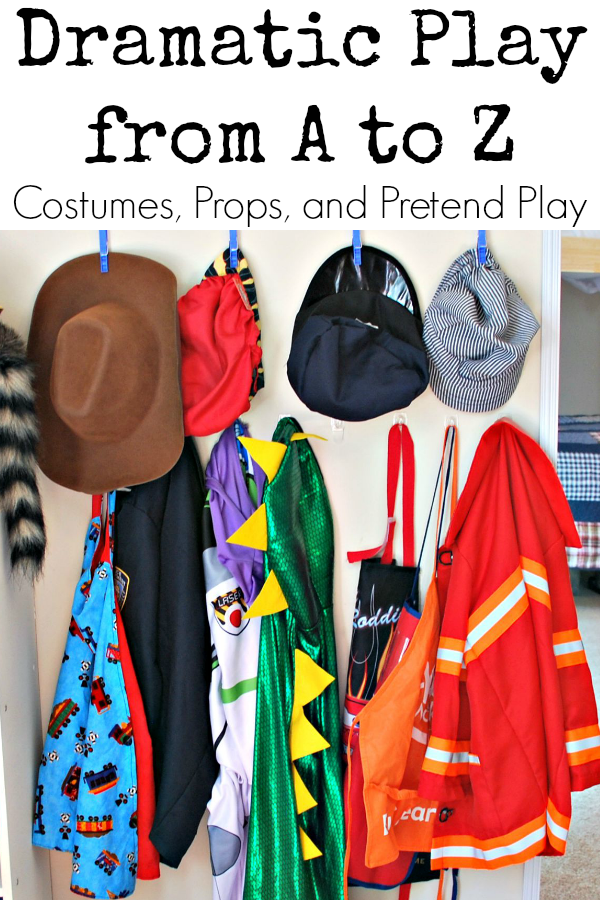 What are your favorite dramatic play prompts?
Looking for more crafts and activities? Check out our index for 100+ plus kids activities! Find activities by theme, materials, skills, age and much more!