We've got 31 kids activities for December for you!
Is December hectic for you? Here it's a crazy month that always seem to sneak up on me. Between getting back on schedule after the Thanksgiving Holiday, my daughter's birthday and getting ready for the the Christmas holiday finding fun kids activities for December can get lost in my long list of priorities.
If finding time to plan activities for the month is difficult for you then keep scrolling because below you will find our free activity calendar for December!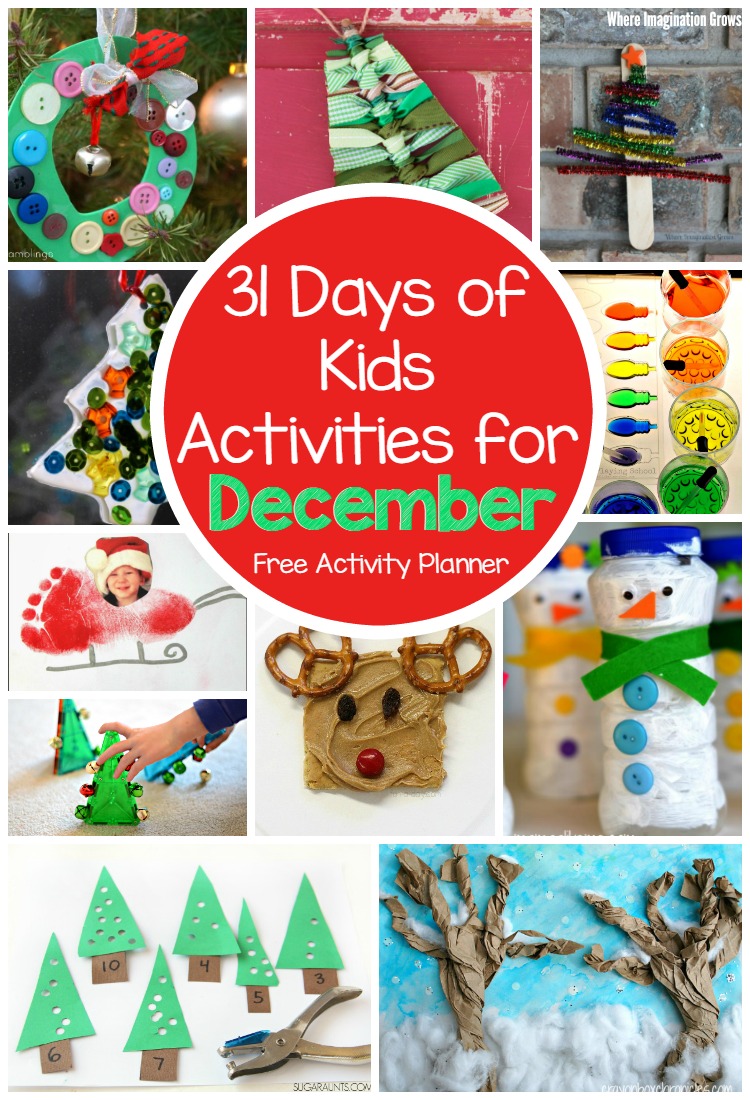 Don't spent your time trying to plan activities this month. Just follow the links below or click on the photo below to be taken to the free activity calendar and bookmark it! You'll have a month's worth of activities at your fingertips, no planning required!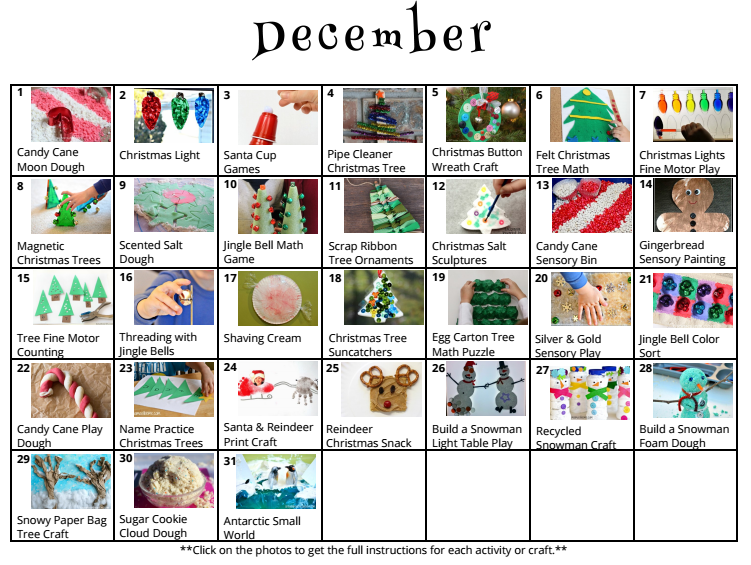 31 Days of Crafts and Kids Activities for December!
1. Candy Cane Scented Moon Dough from Sugar Aunts
2. Giant Christmas Light Suncatchers from And Next Comes L
3. Santa Hats Cup Games from Lalymom
4. Pipe Cleaner Christmas Tree Craft from Where Imagination Grows
5. Christmas Button Wreath Ornament from Wildflower Ramblings
6. Felt Christmas Tree Number Match Up from Frogs and Snails and Puppy Dog Tail
7. Christmas Light Fine Motor Light Table Play from Still Playing School
8. Christmas Science with Magna-Tiles & Jingle Bells from And Next Comes L
9. Scented Salt Dough Ornaments from Wildflower Ramblings
10. Christmas Math Jingle Bell Counting Game from Fun-A-Day!
11. Scrap Ribbon Tree Ornaments from Fireflies & Mudpies
12. Christmas Tree Salt Sculptures from Lalymom
13. Candy Cane Sensory Bin from Fun-A-Day!
14. Gingerbread People Sensory Painting Craft from House of Burke
15. Christmas Tree Counting Fine Motor Activity from Sugar Aunts
16. Threading with Jingle Bells Fine Motor Activity from And Next Comes L
17. Shaving Cream Peppermints Craft from Still Playing School
18. Christmas Tree Suncatchers from Where Imagination Grows
19. Egg Carton Christmas Tree Math Puzzle from Still Playing School
20. Silver & Gold Christmas Sensory Play with Epsom Salts from And Next Comes L
21. Jingle Bell Color Sort from Sugar Aunts
22. Candy Cane Play Dough from Fireflies & Mudpies
23. Name Practice Shape Christmas Trees from Mamas Like Me
24. Personalized Santa & Reindeer Print Craft from House of Burke
25. Reindeer Christmas Snack from Fun-A-Day!
26. Build a Snowman Light Table Play from Where Imagination Grows
27. Recycled Snowman Craft from Mamas Like Me
28. Build a Snowman Foam Dough from Crayon Box Chronicles
29. Snowy Paper Bag Tree Craft from Crayon Box Chronicles
30. Sugar Cookie Cloud Dough from Frogs and Snails and Puppy Dog Tail
31. Antarctic Small World with Penguins from Crayon Box Chronicles
See wasn't that easy?! What activities are you most excited to try?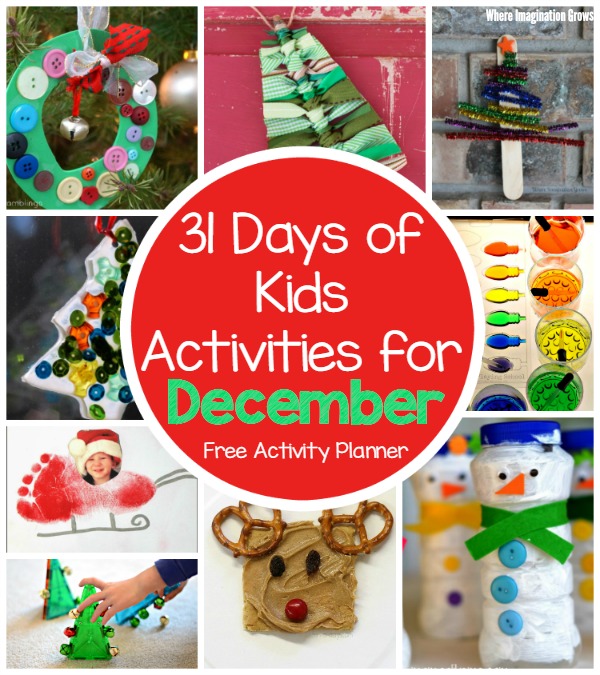 Don't forget to follow our Christmas Pinterest board! Here's some more activities you might like: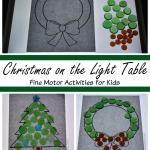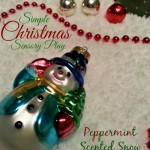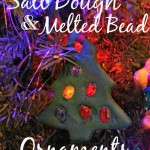 Looking for more crafts and activities? Check out our index for 100+ plus kids activities! Find activities by theme, materials, skills, age and much more!