Looking for simple sensory play for infants?
Here's an easy sensory activity that your kids will love! Mine thought this was the greatest activity! I threw together this simple star box in just a short period of time and the kids have spent so much time in it, especially my infant! We used it for months before the box finally gave out.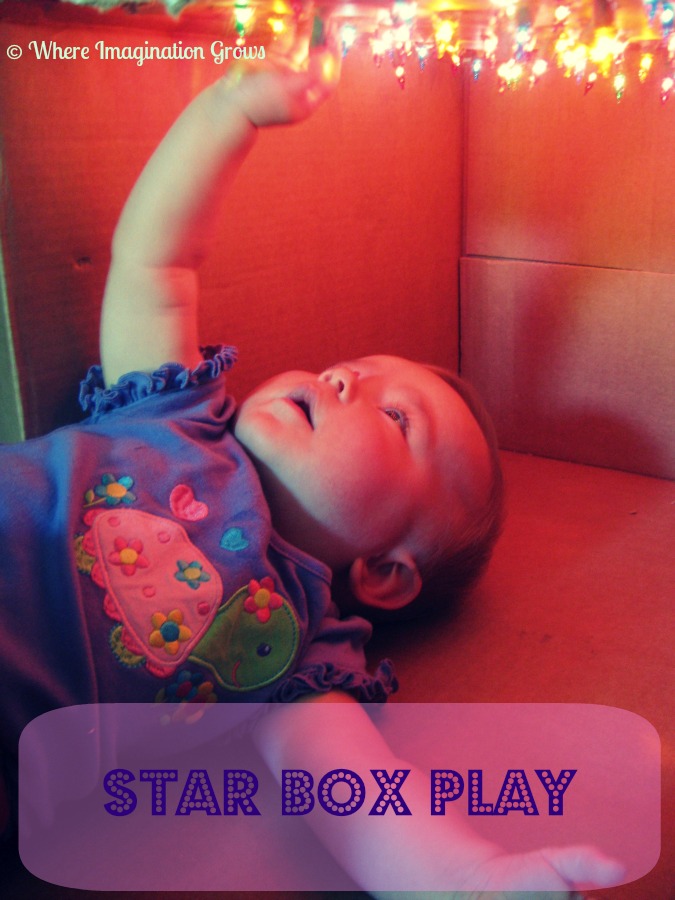 Post contains affiliate links for your convenience, see below disclosure for more info
Star Box Sensory Play for Infants & Toddlers
This sensory play activity was inspired by our Turtle Constellation Night Light. My daughter has it in her room but all the kids love it. They like to take it in the bathroom with the lights off so that they can see all the stars.  As a result I was trying to think of ways to incorporate stars into an activity that they would enjoy.  I came across this article on how to make a planetarium box and thought it would be a great idea! Unfortunately we didn't have a refrigerator sized box but the box we used (a shop vac box) worked well enough, it was great for the smaller kids.
Items needed:
Box
String of lights
Scissors/knife
I started poking holes in the box, trying to make constellations, but with the time I had (and the little ones wanting to help) I ended up just poking a bunch of holes and not worrying about the constellations, that will be an activity for when they are older.  It took all of 5 minutes for us to get this made and ready to be play with. I have to say the holes I made with the scissors worked better for sticking the lights in than holes from the knife did.
Once the lights were in we turned them on and it was an instant sensory play activity for infants and toddlers!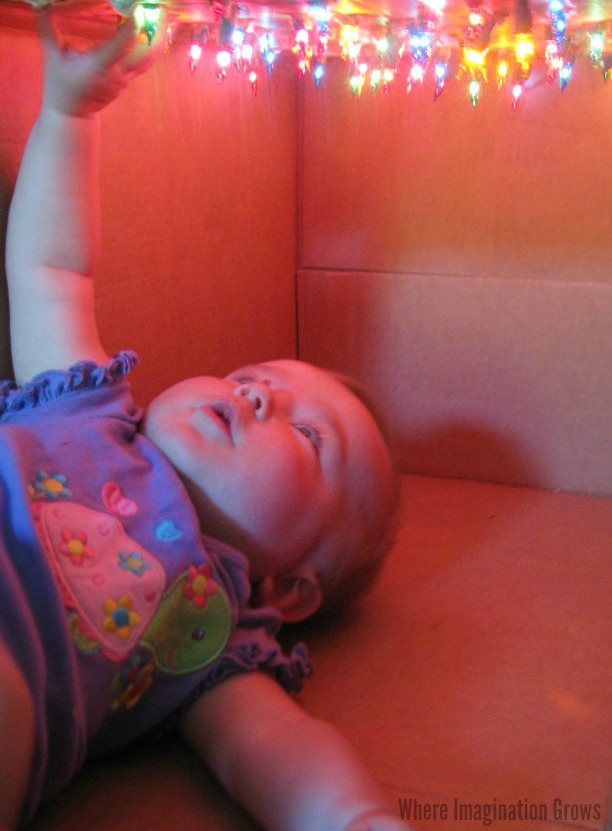 The kids had a great time playing in the box when it was done. It turned out to be a favorite sensory play activity for both of the infants, but the older kids wanted a giant box.  I think that if the box was bigger the older kids would have enjoyed it even more.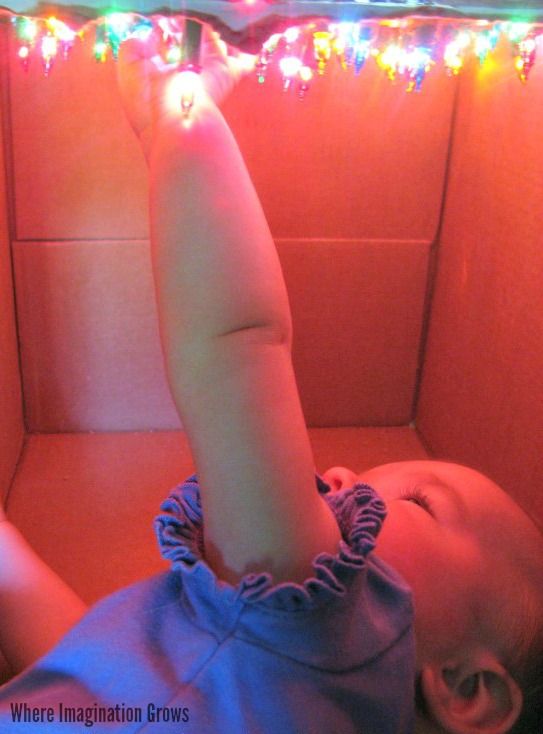 Important Note: I do want to be clear that I did check the lights prior to allowing the kids to use them and they were not unsupervised. I do not recommend you give this to any child unsupervised.  I plugged in the lights the night before and left them on for an extended period in order to test whether or not they got too hot. Ours did not get noticeably hotter until about two hours of straight use, they were never used for that long of a time frame when the kids had them.  I also made sure that these were not as bright as some of the newer ones that are specifically marketed to be ultra bright so my little one's weren't bothered by the light.