There are so many things I wish I knew before I started my in home daycare! Do you have things you learned or issues you are hoping to avoid?
I spend a lot of time scrolling through message boards and connecting with other home daycare providers in order to gain ideas, network, commiserate, and get advice.  In these meeting grounds for providers I often run across the same complaints over and over! Complaints that I had as a new provider, complaints that lead providers to get burnt out early in their career and could have easily been avoided if they had a the chance to talk with someone who had been home daycare for some time.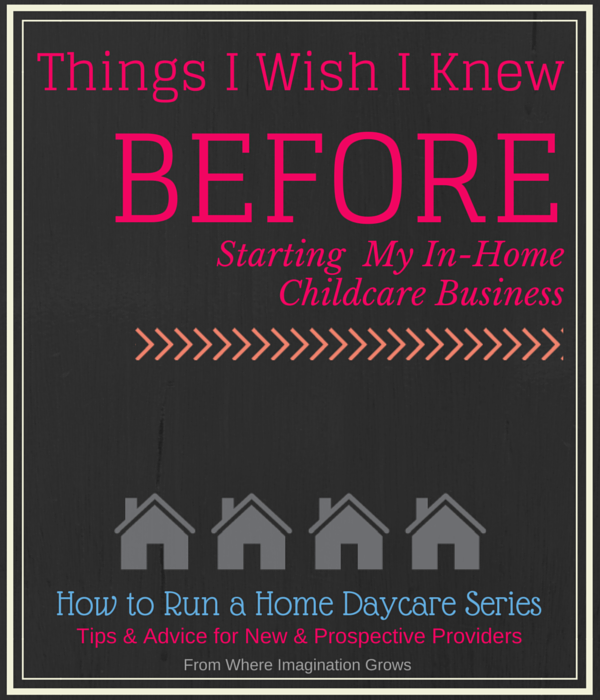 When I first started I felt so prepared but really I was nowhere near as prepared as I thought I was.  I had a rock solid daycare contract and parent handbook, I shopped my competition, and I had years of training and education as well as 10+ years of experience working with kids.  All that sounds great and did give me a great foundation but when it came to the nitty gritty, the everyday things in running my own program, I really learned trial by error.  I'm still learning in fact!
Things I Wish I Knew Before I Started my in Home Daycare
Below is a list of all the all things I seriously wish I had known or thought about before I started my in home daycare or things that I frequently hear other providers complaining about:
Don't accept kids outside of scheduled hours just to fill spots
I frequently see this as major complaint from providers I know.  They needed to fill spots and instead of being firm on hours of operation, they give in to a prospective parent's request and started opening earlier or closing later just to get that family through the door and increase enrollment.  Some end up working 12-14 hour days when originally they only wanted to work 10 hour days.  This only works for a very, very small percentage of providers, the rest find themselves burnt out in a very short period of time.  I'm guilty of this and learned really quick it was a huge mistake.  I opened an hour early and stayed open an hour later for a daycare family when, after 9 months with me, mom's work schedule changed (4-10's) and she needed earlier drop off.  Even though it was short term, 6 months, I will never do it again!  I ended up working 12.5 hour days, 4 days a week! Then this daycare mom volunteered for an ever earlier shift and expected me to take her child even earlier with no questions asked. I let them go at that point and suddenly felt reinvigorated about working again! Maybe it was all the extra sleep I was getting!
Don't take part time infants (especially with unpredictable or sporadic schedules)
Another one I am guilty of unfortunately.  I seriously thought a part time infant (3 days a week, not always consecutive days) would be total cake- babies are easy, right? Instead the part time infant was anything but cake, she screamed the whole time she was here unless she was held, which isn't possible in a group care dynamic with another infant and two other toddlers. If she hadn't become full time which made it possible for her to finally adjust (after nearly 4 months of constant screaming) I would have terminated them.  I was literally days away from it. Part time infants can be some of the hardest children to have in a group care setting, especially if coming from an attachment style home.  I can't stress enough how difficult this can be, I've seen provider after provider struggle with a constantly screaming infant because the infant is not used to being put down to play or sleep and does not attend enough get familiar with and transition into the provider's routine.
Don't allow nap time drop off or pick ups
It sounds simple enough but it can cause a major headache.  I also do not allow parents to drop kids off within an hour of our nap time if they have just woken up from a nap at home, this just creates a headache for me and rarely does anyone else get a nap when one kid is awake.
Meal/snack times are non-negotiable
If little Johnny arrives at 8:30 and breakfast is at 8:00 then little Johnny needs to arrive fed and will have to wait for snack.  Unless you want to be making the same meal multiple times and having everyone on different meal schedules, the best thing is to give parents a written copy of meal/snack times and stick to it.  I also do not allow outside food.
Payment due in advance of care provided
In order to avoid daycare hoppers and parents giving you the run around definitely only accept payment PRIOR to providing care.  If you don't get payment within 24 hours of due date do not accept the child into care! This is your livelihood, how you pay your bills, you don't want to be giving services away for free and sadly there are many parents that know how to play the system.
Don't feel bad about taking PAID holidays
Put it in your contract and stand firm.  If its a deal breaker for a potential parent then let them walk away, they'll be the kind to fight you on absences and illness. My first year I worked nearly all holidays with the exception of Christmas, Thanksgiving and New Years.  Now I take most major holidays (Labor Day, Memorial Day, 4th of July) plus Christmas Eve, Christmas day, several days around Christmas, Thanksgiving, Black Friday (aka the day after Thanksgiving) and New Years day. I have never once had a parent cause problem over this.
Take vacation days
The first year I did child care in my home I didn't take any time off. I scheduled appointments, family activities, and mini-vacations for evenings and weekends. I didn't take anytime off for any kind of vacation. Worst mistake ever.  In this business you will work long hours and working with children means that your days will be busy and sometimes hectic. Unlike traditional jobs you don't get scheduled break times throughout the day and most likely you will be working alone. This can wear on a provider and cause them to burnout on running a daycare very quickly. Making it a priority to take time off is one of the top things I wish I knew before I started my in home daycare!
Get all kids on the same nap schedule
Another important thing I wish I knew before I started my in home daycare! We don't get breaks in this business like you would if you in other fields.  Nap time is the closest thing we get to a lunch break, but if you kids are all napping at different times you're not getting any down time or prep time.  I started my business offering "flexible schedules" and ended up with kids who napped all over the place.  It was super stressful because I felt like all my day consisted of was trying to keep everyone quiet while one kid napped.  Finally I wised up and put everyone on the same nap schedule (with the exception of younger infants, obviously). Now I get a 1-2 hour break each day!
Make a contract (and stick to it!)
It's so important to have a contract, like it or not you will at some point get a parent that causes you stress and fights every policy.  Having them in writing, signed and acknowledged by the parent helps immensely! Plus it protects you, your family, and your business.  Even more to the point you need to stick to it, if you have late fees and a parent is late charge them! Not sticking to your policy just sets the stage for parents to not follow it either.
Don't be afraid to pass or terminate families.
As much as we want each and every kid to fit seamlessly into our programs it doesn't always happen.  Its not fair to you, the child, or the other children to keep a child in care that doesn't mesh or causes problems.  If you get a weird vibe or feel intimated by a parent during an interview don't feel obligated to accept them, the interview process is for both you and them to see if it is a good fit. Terminating a daycare family is stressful but keeping them is even worse. Don't be afraid to terminate a family that isn't fitting with your program.
I'm sure there are many more things I wish I knew before I started my in home daycare but this is all I can remember at the moment!
Personally I feel like my contract and policies are never 100% done.  I revise and update them every year and review with parents each time.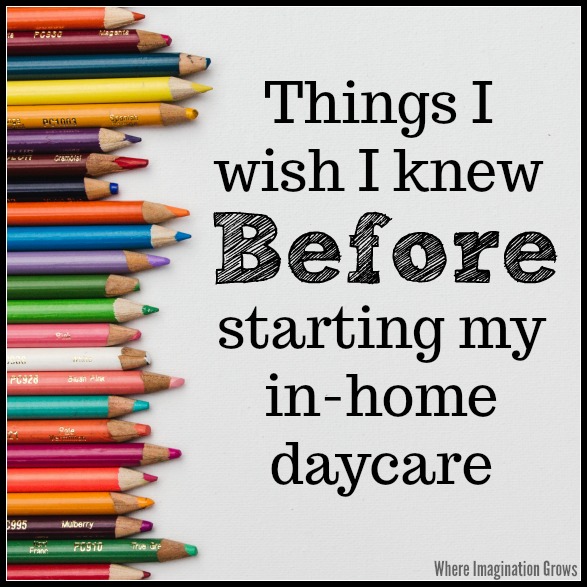 I also recommend networking with other providers, many have great ideas and insight to share about all kinds of situations you may find yourself in!
What do you wish you knew before you started your daycare?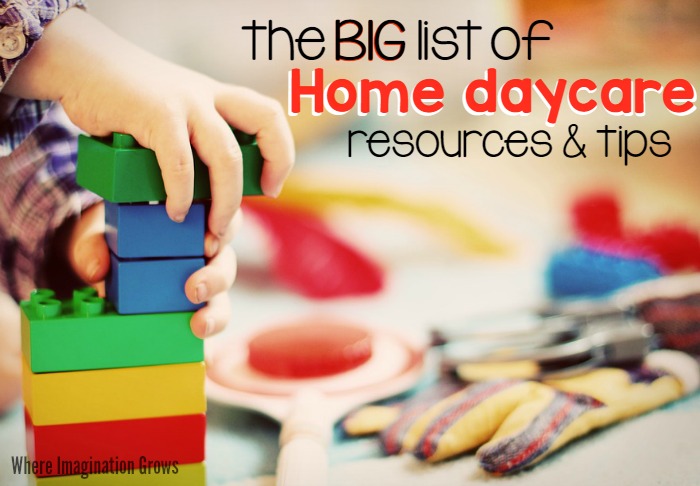 Ready for more tips and advice? Check out my tips for avoiding burnout and how to create a daycare contract or pick up a copy of my ebook with even more in-depth help starting your home daycare today:
Available in downloadable ebook and Kindle format! Also check out our daycare forms and full daycare contract template in our store!  Shop Now! 
Looking for more post about running a daycare? Check out my daycare page to learn about starting or running an in-home daycare or shop my collection of ebooks and daycare forms in my store.