Just starting a home daycare? Wondering what supplies for home daycare are essential? There are many things that you need for a home daycare but not everything is a must have when you are just starting out. Scale back on the toy section and focus a bit more on some everyday household gear.
Below you will find some essentials to get you started. Think of something I missed? Tell me in the comments!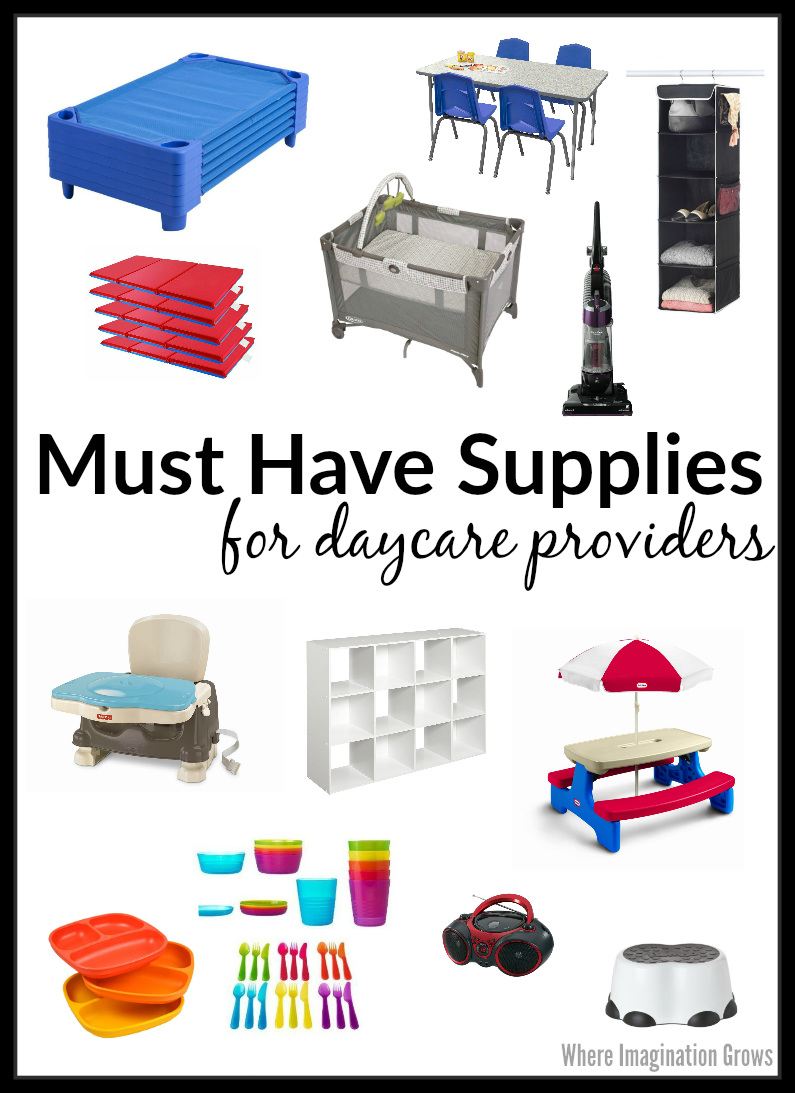 Affiliate links provided for your convenience, see my disclosure for more info.
Must Have Supplies for Home Daycare Providers
Most the time when people think about the all must have supplies for home daycare they picture a bunch of toys and art/craft supplies first. While those are most definitely things that you need to gather the most essential items are everyday supplies and gear. It can seem like a lot at first but you don't have to buy everything new, secondhand stores can save you hundreds, and just buy what you need based on the ages of kids in you have enrolled. Don't have an infant? Skip the playpen and high chair until you enroll one.  Don't forget to save your receipts!
Here's my list general must have supplies for home daycare providers: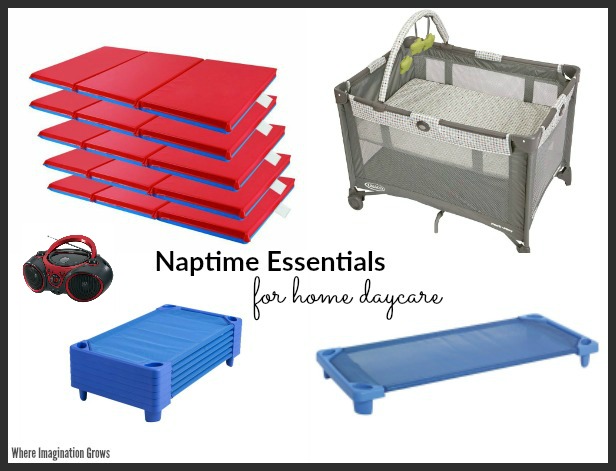 Small cots or nap mats are essential items that you will need when running a home daycare. Little ones need somewhere to safely and comfortably rest at nap time.  It's up to you what type you prefer to use, it may depend on your storage space too, but traditionally you have folding nap mats or stackable rest cots for children to use. If you decided to use the stackable rest cots don't waste your money buying specialty sheets, a simple fitted crib sheet easily works on these.  If you decided to use folding nap mats I recommend ones with at least 1-2″ thickness. Also it's important to realize that some states may have requirements on how far children need to be off the floor, this will determine what type of mats you need.
A Pack 'n Play portable crib for young children is another must have. If you plan to have infants or young toddlers you definitely want one of these right away. I like the pack 'n play cribs that have the infant bassinet insert because it keeps the younger infants at a higher level which saves your back and offers a more 'nestled' feeling because the walls are generally non-see though. I know they make fancy ones with changing areas and newborn seats but you don't need all that.
CD/Player with soft music. Naptime can be hard with different age groups. Some kids may be resting on mats while other sleep close by or maybe you have kids up while other sleep. Either way having a CD Player/iPod Dock with soft music playing is very helpful. You can use it for dance parties too!  I know many people love simple classical music or gentle lullaby cds but in my house the secret to successful naptime is soothing waterfall sounds!
Quilts and Blankets are also things that you will need for naptime. I usually find high quality ones for great prices at secondhand stores. I use these for naptime and at playtime for younger infants to play on.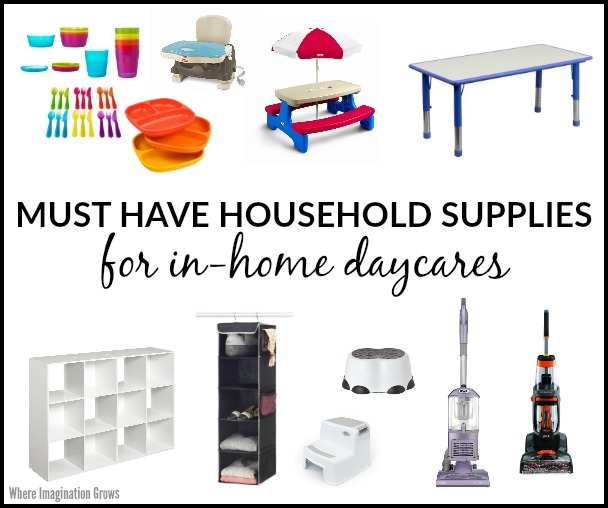 Shelving and storage is not something you can forget about. You need space for storing extra clothes, diapers, and other personal items each child is required to bring. You also need toy storage. If you are low on space I recommend these hanging closet shelves to be used as cubbies or diaper storage. I use them in my entry closet and they work perfect. I can fit diapers, a change of clothes, and backpacks into them if needed.  It keeps everything out of the way and organize. Also IKEA shelving units and Closetmaid Cubicals make affordable organization tools and toy storage shelves. Don't forget to anchor them to the walls in case little ones try to climb them. My favorite toy storage bins are any of the IKEA Trofast storage collection (<–cheaper at IKEA stores than online).
Kids Tableware.  Having kids sized tableware is another essential for obvious reasons. You can get these dinnerware sets at any store but I really like this kids tableware set from IKEA. They are fairly reasonably priced and they have withstood constant use for years now. One thing I will say is that I do not like the IKEA plates, the silverware/cups/bowels are great and you can buy them individually, but I only use the plates for snacks. At meal time I use these larger divided plates or these recycled plates from Re-Play.
Don't forget child sized furniture! Again IKEA has some great options if you live close to one. If not, keep an eye out online or at secondhand stores. Kid sized tables and chairs are a must. If you are just starting out I recommend going for plastic picnic style table sets because they are much more affordable and versatile. Once you are up and running or take on more kids you can upgrade to more durable table and chair sets.
A carpet cleaner & vacuum are things that you will use often. Vacuums in a daycare home get used more than a normal home by a long shot. Most home daycare's use theirs, at the very least, every other day. I recommend upgrading to one that can handle heavy use like this upright vacuum but I've had this more affordable vacuum in the past and it worked great for the first year and a half. Carpet cleaners also come in very handy when you have little ones spitting up and spilling things all over your floors. I recommend the Bissell ProHeat Revolution carpet cleaner. Check out my review of how this carpet cleaner performed after messy art in my daycare home.
Stools are necessary for kids to do things like washing hands and using the bathroom. I usually have a regular step stool for the toilet and a dual height stool for the kids to be able to reach the sink. This depends on your house but definitely make sure you have one or you're going to be lifting kids often.
High chairs are highly needed if you have an infant or young toddler in your care.  IKEA has affordable, easy to clean high chairs for under $20 but if you don't have one locally you can easily pick up a basic one at a big box store like Target or Walmart. If you don't have the space for a high chair I recommend a booster seat with tray. These are great space saving alternatives to traditional high chairs and can grow with children.
Where to buy daycare essentials?
You don't have to spend an arm and a leg buying directly from daycare supply companies. There are many ways to save money by bargain shopping or finding deals online. Here are a few places to check out when searching for your daycare must haves:
Craigslist
Facebook Sale Groups
IKEA
Amazon
Discount School Supply
Secondhand Stores
Walmart/Target
Remember: save your receipts! You can write all or part of everything that you buy for use in the daycare on your taxes!
Have all the essentials? Check out my list of must have toys & books:
Looking for more crafts and activities? Check out our index for 100+ plus kids activities! Find activities by theme, materials, skills, age and much more!